Use these apps to keep your little monsters safe on Halloween
Empower your iPhone with the right apps for a fun and safe Halloween.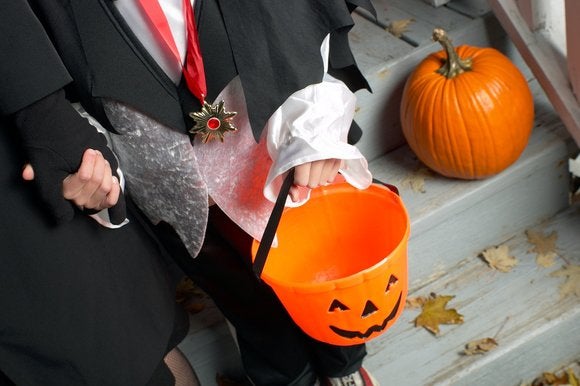 If you're a parent, Halloween can be an unsettling mix of emotions. Sure, your kids are having a great time roaming the neighborhood and stuffing themselves with candy, but being a parent you're of course worried about their safety, especially if this is the first Halloween that you're letting your kids trick-or-treat unsupervised.
Use your iPhone to put your mind at ease on All Hallow's Eve with this collection of apps that can track a group of family members--even if they're using Android devices--and apps that help light the way.
Find My Friends


Find My Friends is the best location-tracker if everyone has an Apple device
Find My Friends (free) is already on your iPhone, and it's the best way to keep tabs on each family member's location in real time (assuming they all use an iPhone, of course).
To start using it, you'll first need to activate it within iCloud. Go to Settings > iCloud, and scroll down to Share My Location; tap it, and toggle location sharing on. Next, you'll go back to the Find My Friends app and sign in with your Apple ID. From there, you can then invite others to share their locations with you; since we're talking about your children, here, you can manually set it up on their phones and accept the invite. Then anyone in the group can launch Find My Friends to see where others are currently located.
If you're new to Find My Friends, there's much more you can do besides tracking. You can tap on a contact to send them a Message, start a FaceTime chat, or call them. For putting your mind at ease, you can opt to get a notification when they leave or arrive at a specific location--like when your child arrives at their friend's house--which means you don't have to obsessively check the app or text your kid.
A bonus for parents: You can use Restrictions--Apple's term for parental controls--to ensure that your kids can't turn Find My Friends off. On your child's phone, go to Settings > General > Restrictions, then tap Enable Restrictions to set up a password-protected set of parental controls.
Life360
As much as you love your iPhone, your teenager may have opted for an Android device (or perhaps they inherited one of your old Android hand-me-downs). Not to worry--check out Life360 (free), which works much like Find My Friends, but is cross-platform for those multi-operating system families.
To get started, you'll need to create an account and get everyone else in the family to download the app on their own devices. Then, one person needs to invite the others to share locations with one another. Life360 goes beyond Find My Friends in terms of additional features: for example, family members can message one another and also get nearby crime alerts. You can also set up different circles of friends or family members to better categorize who you're keeping tabs on.