Update: Firefox 34 seeks user OK before changing search to Yahoo
Browser update also includes other search improvements.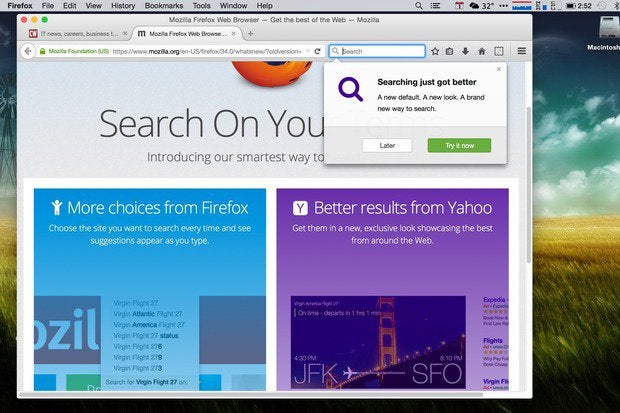 Mozilla asked current users whether they wanted to switch to Yahoo for search and add a number of other search tools after Firefox updated to version 34 today.
As anticipated, Mozilla today updated Firefox to version 34, automatically switching the browser's default search from Google to Yahoo for most users in North America.
Firefox 34 launched early Monday to little fanfare from Mozilla, who touted it only on the update's Notes page.
Along with the North American search change, Mozilla also automatically switched from Google to Yandex in the Russian, Belarusian and Kazakh localizations. Mozilla had dropped Yandex in 2012 in favor of Google.
Both Yahoo and Yandex were previously announced -- although earlier Mozilla had said that the former had claimed the default only in the United States -- two weeks ago when the open-source developer said it had quit its 10-year partnership with Google as Firefox's more-or-less-global search default. Instead, Mozilla said it would strike deals market by market.
Mozilla has not disclosed the financial terms of the five-year contract with Yahoo. In 2013, the most recent year for which Mozilla has released financial information, it received approximately $275 million from Google for using the Mountain View, Calif. company's engine as the Firefox default.
Today's North American change to Yahoo came with a pitch by Mozilla that touted "Better results from Yahoo" on an after-update landing page and a first-of-several-pop-ups that asked the user whether they'd like to try the new search engine and additional tools, or postpone the decision until later.
Last week, Mozilla declined to specify how it would alert existing users of the Yahoo-for-Google change, saying then that it was still "experimenting with different ways to communicate the benefits of these changes."
Only users who had left Firefox's default search engine untouched were to be switched to Yahoo, Mozilla's director of product management, Chad Weiner, said last week. Those who had already ditched Google for another provider, Bing or DuckDuckGo, for instance, would continue to see that engine as the default.
Computerworld updated Firefox on several personal computers, and in each case the change went as Weiner had promised.
Firefox users can always change the default search provider, even if they agree to Yahoo today: The default can be set through the browser's Preferences screen and Search tab. Clicking the magnifying glass icon in the Firefox search bar and selecting Change Search Settings will call up the Preferences/Search display.
The design of Yahoo's search results page within Firefox will be an exclusive for now; the streamlined look will be rolled out to other browsers in early 2015.