Tuning in to iRadio: Why an Apple music streaming service would rock
If you've perused the Internet in the last little while, you're probably aware of the rumors of Apple's "iRadio" service--a streaming music service that would (if it became real) provide Pandora-like functionality to computers via iTunes, as well as to iOS devices. Such rumors naturally provoke questions: If such a thing existed, how would it differ from Pandora and other streaming services? And given that Pandora and its ilk do exist, what can Apple bring to the party that isn't already there? Let the conjecture begin.
A radio service can do that. Play a particular channel, and, as with Pandora, music that you're likely to enjoy emanates from your speakers or headphones. Oh, and look, there's a Buy button, front and center. Click. Purchased. Done. Oh, you purchased that? Let's rejigger the upcoming playlist to include tracks you'll like so much that you'll pay for them.
Pandora can do something similar, in that it too features a Buy link. But it requires more steps, and its catalog isn't nearly as large as what Apple should be able to offer. Having such a service built directly into iTunes gives Apple a leg up.
And speaking of a leg up, there's iTunes' Genius feature. With Pandora you must choose a source and then train the service. (Not from the ground up, as Pandora has plenty of data from other listeners it can use to make very educated guesses about what to serve you.) But suppose Apple's service has access (with your permission) to all the tracks you've purchased, all the tracks in your iTunes library, and--for those who've chosen to use the service--everything you've done with iTunes Match. That data is compared with the Genius data of others who have similar tastes. Imagine how close the music you hear could match your tastes--and, again, from a much larger pool of music.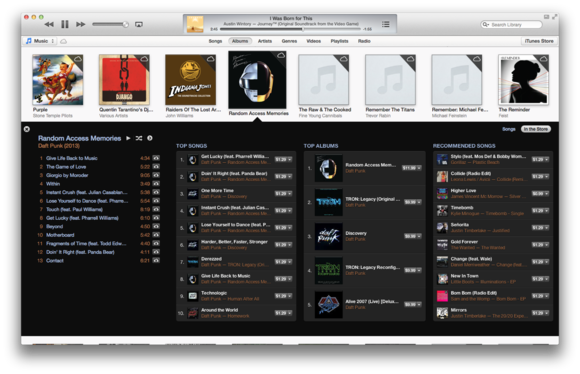 Pay to play
And then there's the question of paying for the service. Pandora, Last.fm, and Slacker offer free plans that are subsidized via both audio and visual commercials. This approach doesn't sound like Apple to me. The company's image is very much about quality, and to tacitly endorse an insurance company, sugar-water manufacturer, or bourbon distributor by slapping on their jingle-laden ad would run counter to that image. Visual ads within the player make more sense--particularly if they're for companies such as BMW, Rolex, and Nike, where the brand's perceived quality matches that of Apple's.
Still, given the nature of a music player, users spend very little time looking at the screen and so will miss many of the ads, which makes them less valuable to advertisers. This puts Apple in an interesting position regarding ads: Should it please the customer who wants no audio ads whatsoever, or please the advertisers and risk losing those customers. Likewise, I can't believe Apple would offer streams crowded with DJs, which would be the worst sort of audio skeuomorphism.
Of course, Apple could follow Pandora's lead and offer two iRadio services--an ad-supported version and an ad-free subscription version. The latter could be manifested as part of the iTunes Match service, or offered as a separate add-on. Make the ads in the former just intrusive enough (and the paid service affordable enough), and watch the subscriptions roll in.