TrewGrip wants to change how you type on your mobile device
TrewGrip is for anyone who sees their mobile devices as a tool for getting things done but finds that an onscreen keyboard cramps their style.
I learned to touch type under the scornful eye of a ninth grade typing teacher who had as little patience for teenage boys as she did for people who hunted and pecked their way around a keyboard. Thanks to her terrifying tutelage, her unyielding scorn for the lazy positioning of my hands, and her sneering incredulity at the amount of Liquid Paper I had to dab on my typewritten pages, I can now type at very credible speeds with nary a glance at my keyboard.
And when I'm holding the TrewGrip, a mobile keyboard aimed at smartphones and smaller tablets, I can touch type backward and upside down. Have I earned your grudging respect NOW, Mrs. Lynch?
I first laid eyes on the TrewGrip at CES this past January. Even on a showfloor where many gadgets run the gamut from garish to goofy-looking, the TrewGrip stood out. My colleague Mark Hachman called the TrewGrip a "mini keyboard that vaguely resembles the unholy union of a pasta shell with an accordion," and honestly, I'm not prepared to tell him that he's wrong.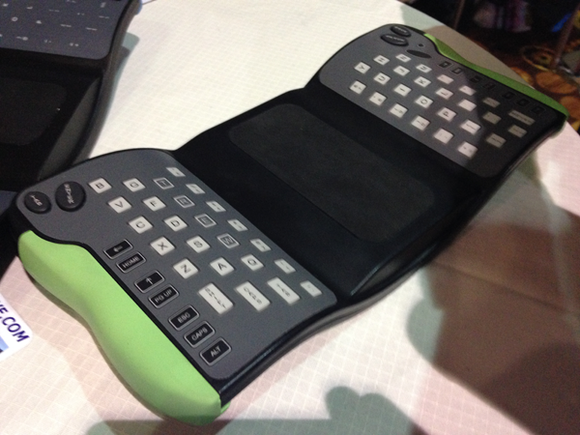 PHOTO: PHILIP MICHAELS. Even on a crowded CES show floor this past January, the TrewGrip stood out.
But more accurately, the TrewGrip takes a traditional QWERTY keyboard, splits it in two, and flips it around. Attach a phone or an iPad mini-sized tablet onto the front of the TrewGrip with a suction mount, connect via Bluetooth, and you've got yourself a portable keyboard for touch typing on your mobile device--albeit one in which the keys are facing away from you on the accessory's backside.
The TrewGrip stands out from a lot of other gadgets that get shown off at CES in a more significant way: It's got an impending ship date. The Ohio-based TrewGrip plans to ship its namesake mobile keyboard this fall and is already taking preorders. I got a chance to try out a prototype of the TrewGrip in advance of its fall release, spending a few days familiarizing myself with this backward approach to typing. The verdict? The TrewGrip definitely offers a creative way to make it easier to type in text on your smartphone or tablet, but it's an approach that takes some getting used to.
Who it's for
In using the TrewGrip, it becomes pretty clear who's in the target audience for this device--and who most definitely is not. If you're the kind of person who needs to constantly look down at your keyboard to make sure you're striking the right key, for example, you are not going to get much use out of a keyboard where everything's flipped around.