Transform a Windows tablet into a full-fledged Windows PC
Today's Windows tablets offer such solid productivity chops that they can easily become the heart of a potent sit-down workstation with the help of a few peripherals and some smart software choices and tweaks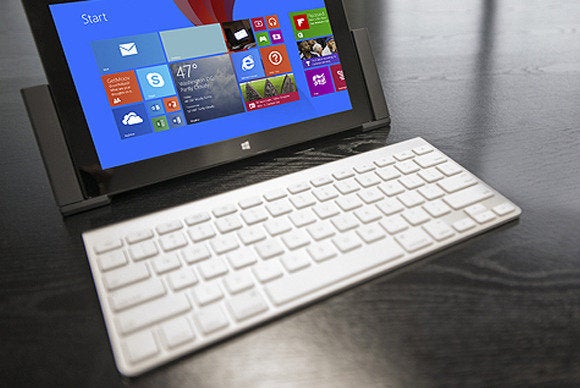 Microsoft and its PC partners are producing a seemingly endless variety of tablets, from 8-inch slates that can practically fit into a (large) pocket to 10-inch tablets that still aren't quite ideal for long hours at a desk. They won't hesitate to tell you these devices are full PCs running full versions of Windows 8.1. Many Windows tablets even come with a free copy of Microsoft Office!
In fact, today's Windows tablets offer such solid productivity chops that they can easily become the heart of a potent sit-down workstation with the help of a few peripherals and some smart software choices and tweaks. Even better, you can take that productive heart with you when you have to leave your desk.
Here's how to transform a Windows tablet into a full-fledged Windows PC.
A quick note on performance
It's important to temper your expectations before we dive in.
Sure, tablets can't substitute for full-fledged gaming PCs and don't have the power for demanding workloads like video editing, but so much of what we do with PCs can be done with cheap, power-efficient hardware.
While Microsoft's own Surface Pro 2 packs an Ultrabook-class Core i5 processor, and the Dell Venue 11 offers Core i3 and Core i5 options, most Windows laptops run on Intel's tablet-class "Bay Trail Atom" processors. Bay Trail processors provide solid performance in day-to-day computing tasks like web browsing, checking your email, watching high-definition videos, and Office-type productivity tasks.
The missing piece of the tablet-as-PC puzzle is a larger display with dedicated input devices--and it's here that Windows tablets can shine over Android tablets and iPads, offering the full-PC power so many of us can't live without.
Video-out options
You'll really want a tablet with some sort of video-out port if you want it to double as a PC. Some of the cheaper Windows tablets out there don't offer video-out ports at all, leaving you to fend with inferior wireless solutions. You'll find different types of ports on different tablets. For example, the Lenovo ThinkPad 8 offers a micro-HDMI port, while Microsoft's Surface Pro 2 offers a Mini DisplayPort instead. You'll need a micro-HDMI-to-full-HDMI adapter or a Mini-DisplayPort-to-HDMI adapter, which will allow you to connect your tablet to a standard computer monitor or TV.
Some cheaper tablets don't have any video-out ports. You'll want to avoid these if possible, because you'll have to use the Miracast wireless display technology built into Windows 8.1 with them them. Miracast theoretically lets you wirelessly stream your tablet's display to a nearby monitor. However, Miracast often doesn't work very well, and devices that are certified as compatible may not actually be compatible. If you want to try Miracast, you'll probably need to pick up a wireless Miracast adapter for your display, too.