Toshiba unveils new business notebooks under its Portege and Tecra brands
From Ultrabook to mobile workstation, all 5 PCs can use the same docking station.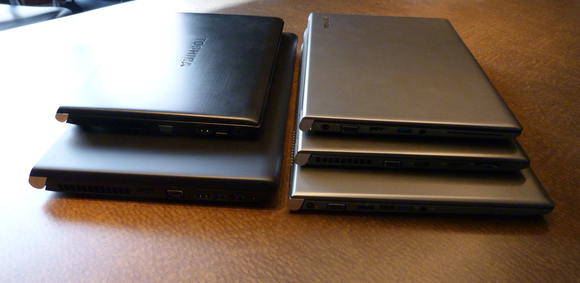 Toshiba took the wraps off a new line of business notebooks and mobile workstations today. Each machine is manufactured from magnesium alloy and is powered by a fourth-generation Intel Core processor, with vPro technology and Trusted Platform Module (TPM) support. All five of the new machines can be mated to the same optional dock, so that IT departments can source just one port replicator no matter which new Toshiba laptop they purchase.
Each of the new Portege and Tecra notebooks is outfitted with three USB 3.0 ports, full-size VGA and HDMI ports, an SD card reader, gigabit ethernet, and a dual-band 802.11ac Wi-Fi adapter. Some Ultrabooks--such as Lenovo's X1 Carbon Touch--omit the ethernet adapter altogether, but I like Toshiba's innovation: The adapter is upside down, so that your finger pushes the retaining clip down from the top to release it, instead of squeezing it up from the bottom.
I'm cooler about Toshiba's decision to drop DisplayPort in favor of HDMI. HDMI is fine on consumer gear, but it lacks DisplayPort 1.2's daisy-chain feature for connecting multiple displays. Toshiba provides both display interfaces on its optional port replicator.


Toshiba mounts the ethernet port upside down, so that it's easier to disconnect the cable. This model is Toshiba's new Tecra Z30. (Click to enlarge.)
Since businesses tend to be more conservative when it comes to supporting new operating systems, Toshiba will ship the notebooks with Windows 7 Professional preinstalled (Windows 8 Professional will be available as an upgrade option).
The 14-inch Tecra Z40 and 15.6-inch Tecra Z50 can be ordered with Intel's Core i5 or Core i7 mobile processors, up to 16GB of memory, and mechanical hard drives up to 750GB or SSDs up to 512GB. Toshiba will offer Nvidia GeForce 730M discrete graphics processors as options on both models. The 13.3-inch Portege Z30 will have similar specs, with the exception of the discrete graphics option. The Portege Z30 measures 0.7 inch thick and weighs 2.6 pounds. The Tecra Z40 is 0.8 inch thick and weighs 3.2 pounds. The Tecra Z50 is also 0.8 inch thick, but heavier at 3.9 pounds.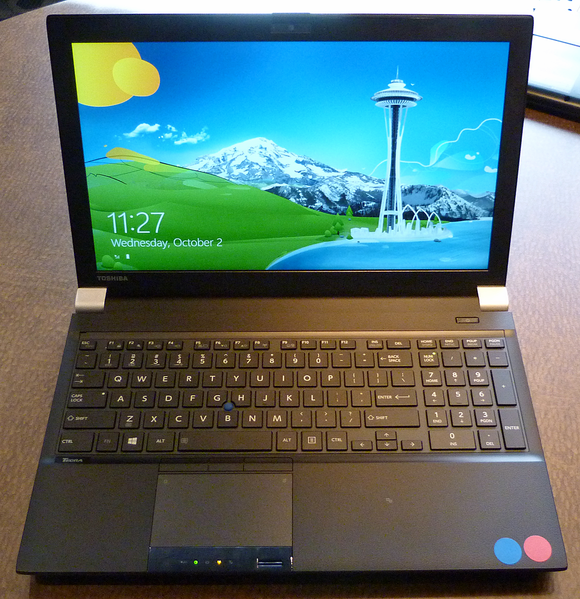 Toshiba's Tecra W50 is a 15.6-inch mobile workstation. (Click to enlarge.)
All three models use Toshiba's AirFlow II cooling technology, which features a secondary heat pipe adjacent to the cooling fan. The heat pipe is designed to distribute heat more evenly across the bottom of the notebook, eliminating hot spots as you use the computer on your lap.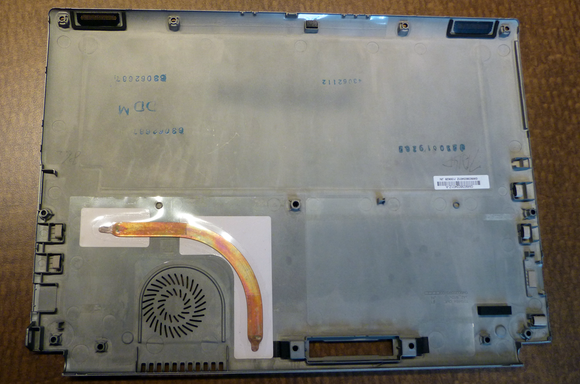 A second heat pipe mounted to the inside of the magnesium-alloy bottom panel whisks heat away from the cooling fan to eliminate hot spots. (Click to enlarge.)