Toshiba Portege Z10t review: The best detachable so far (if you're into that sort of thing)
I'm not completely sold on the 2-in-1 hybrid concept. A laptop that becomes a tablet when detached from its keyboard? Who really needs that? But if you're smitten by the idea, Toshiba's Portege Z10t is the best execution I've seen. It's not too big, it's not too heavy, and it packs some serious computational horsepower.
Detaching the display from the keyboard involves a bit of a dance, as you must first push an eject button (if there's USB storage plugged into the keyboard), then slide a spring-loaded button to release the display (I found I had to use my fingernail) while your other hand lifts the tablet out of the dock.
The display is enclosed in a stiff resin material that has a textured finish to help you maintain a firm grip. Vents on the top, right, and bottom of the tablet keep things cool. These are augmented by a small, but annoyingly loud fan; fortunately, it spun up rarely and never for very long.
Considering the dock's thinness, I was pleasantly surprised by the good feel of its island-style keyboard. Most of the short-throw keys are of typical size, but the Ctrl, Fn, Windows, Alt, Shift and Enter keys are about half normal size, while the even-less-used Function, Tab, Page-up/down, arrow, and Del keys are about quarter-sized.
This isn't a keyboard you'll want to use all day long when you're deskbound, but it's pretty good all things considered. There's a blue eraser-head pointer stick (Toshiba calls it an AccuPoint II pointing device), and a smallish touchpad on the wrist rest with mechanical left and right buttons on top and capacitive mouse buttons at the bottom.
The dock has both HDMI and VGA video connections, a gigabit ethernet port, and a USB 2.0 port. Unlike some 2-in-1 hybrids we've seen, the Portege Z10t doesn't have a second battery in the keyboard (although it does have a power socket, as does the display). In addition to the video ports on its tablet and dock, the Portege Z10t also supports Intel's Wireless Display technology. And 802.11ac Wi-Fi is provided by Intel's Dual Band Wireless-AC 7260 chipset.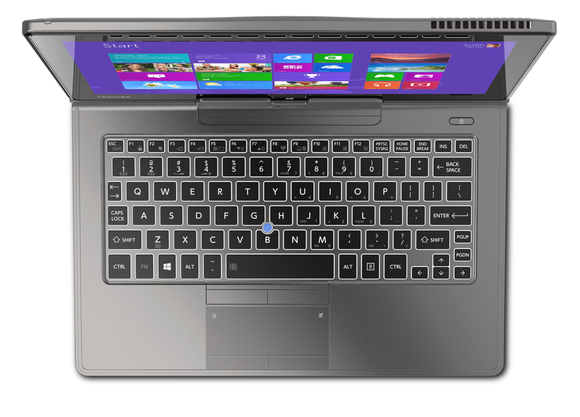 Toshiba made surprisingly few design compromises in the Portege Z10t's ultra-thin keyboard.
Performance
Toshiba's Portege Z10t significantly outperformed HP's consumer-oriented Spectre x2 hybrid, earning a Notebook WorldBench 9 score of 67 to the HP's 50. But the HP had a lesser processor (an Intel Core i5-4202Y), half as much memory, and a much smaller SSD. The Spectre x2 weighs almost a pound more than the Portege, but most of that weight can be attributed to its larger display (13.3 inches) and the presence of a second battery in its keyboard dock.
The Portege also delivered solid scores on PCMark 8, Cinebench, the audio-editing, and the CPU-based image-editing benchmarks. Gaming performance was nothing special, but that's no surprise considering this business-oriented machine relies on integrated graphics. Battery life was a medicore 4 hours and 28 minutes. The dual-battery HP Spectre x2 lasted about 27 minutes longer.