Toshiba Kirabook: Rich and thin, but still short of awesome
The Kirabook definitely looks the part of a luxury laptop, and it's the first Ultrabook to compete with Apple's Retina lineup. But Toshiba made several disappointing decisions on the way to a $2000 price tag.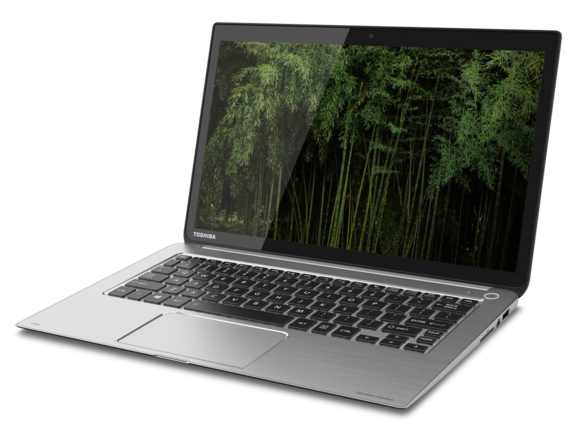 I was a little hard on Toshiba's original Kirabook. Okay, I was a lot hard on it. In my view, the company's engineers committed a few critical design mistakes that severely undermined the Ultrabook's claim to luxury status. I'm happy to report that Toshiba has made amends--mostly. The second-gen Kirabook is better, more powerful, and less expensive. But it remains a few features short of being a masterpiece.
Like the original, this Kirabook is an absolutely beautiful computer, housed in an elegant magnesium-alloy chassis. Its Retina-like, 13.3-inch, 2560-by-1440-pixel touchscreen display--boasting a pixel density of 221 pixels per inch--remains its primary attraction.
The HDMI port on the old Kirabook was limited to delivering a maximum resolution of 1920 by 1080 pixels to an external display. The new Kirabook has an HDMI 1.4 port and can deliver 4K resolution (3840 by 2160 pixels) to an external display. But when I connected it to a 4K monitor (Sharp's 32-inch PN-K321), I discovered that it's limited to a refresh rate of either 29- or 30Hz at this resolution. That's a limitation of HDMI 1.4 that's not present in HDMI 2.0--or in DisplayPort 1.2, for that matter.
That low refresh won't be too much of an issue when you're watching movies (although 24Hz would be a better match for films converted to video), and you'll never play games at that resolution with the Kirabook's integrated graphics. But your eyes will soon fall out of your head if you spend much time trying to be productive in that environment (yes, I'm exaggerating).
The Kirabook's keycaps are about the same size as those on the Lenovo ThinkPad X1 Carbon I've been using for the past year, but they're shaped more squarely, their surfaces are flatter, and they have slightly shorter travel. These attributes made them feel smaller under my fingers than they actually are. I do like the keyboard's backlight, which illuminates the letters on the keycaps and not just the borders of the keys.
The balance of the new Kirabook's feature set matches that of its predecessor: Three USB 3.0 ports, a microSD card reader, Corning Concore glass over its display, and no hard-wired ethernet port. This time, however, Toshiba provides a state-of-the-art 802.11ac Wi-Fi adapter (specifically, an Intel Dual Band Wireless-N 7260 2x2 AC Plus Bluetooth), which is a big boost from 802.11n. Its chassis feels the same, too--including its none-too-rigid lid--and it weighs the same 2.97 pounds.
The model reviewed here is powered by an Intel Core i7-4500U, 8GB of DDR3/1600 memory, and a 256GB SSD. Given those components, I was more than a little surprised by its low Notebook WorldBench score of 40. After all, Dell's XPS 13 and Lenovo's Yoga 2 Pro both have the lesser Core i5-4200U, and they scored 69 and 62 respectively.