Toshiba Canvio AeroMobile review: An SSD makes this the portable media server to beat
This portable storage device and wireless media server weighs a mere 4.23 ounces.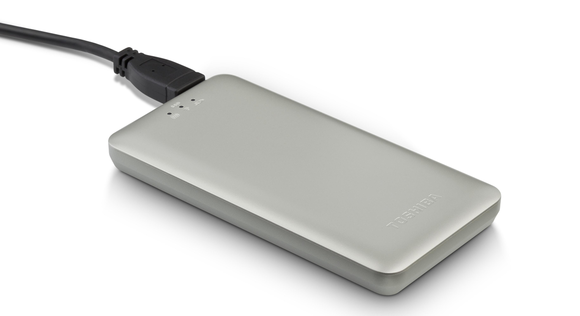 Toshiba's Canvio AeroMobile portable Wi-Fi media streamer lives up to its name. At least if you associate "Aero" with aerogels and not flying cars. This portable storage device and wireless media server weighs a mere 4.23 ounces.
The idea to marry a portable hard drive to a wireless hot spot isn't new. Seagate, Samsung, Corsair, and Patriot all have competing products. The feature that sets Toshiba's offering apart from these is that it uses a blazing-fast SSD where the other products have mechanical drives.
That choice puts a low ceiling on capacity--our eval unit delivered 128GB of storage where its platter-based competitors offer 500GB, 1TB, or more--but the presence of an SSD renders the AeroMobile very lightweight, fast, and much less susceptible to data corruption. It's outfitted with an SD card slot, so you can augment its internal storage, as well as play media you've recorded or stored on SD cards.
The presence of an SSD elevates the AeroMobile's MRSP well above its mechanical competition, but you'll find significant discounts if you shop around. The drive was selling at Amazon for $139 as of this writing, and Toshiba was offering it at its own webstore for $147 through the end of June 2014.
The AeroMobile measures a little under 5.0-inches long, 2.5-inches wide, and a mere half-inch thick. It fits easily in a shirt pocket, where competitors require a jacket pocket or even a backpack. The AeroMobile is styled in bright silver, making it suitable for business meetings, yet easily detectable if lost at a campsite. It's not as easily spotted as fluorescent yellow, and not that you should be watching movies instead of enjoying the natural splendor, but I digress.
Having no moving parts, the AeroMobile is extremely shock-resistant when compared to platter-based streamers.The drive offers only a single Micro-B USB 3.0 port, so it's not suitable as an auxiliary power source for charging mobile phones and the like. It has an on/off button; three status lights for power, charging, and Wi-Fi connectivity; and a recessed reset button in case something goes wonky with the operating system or media server. This never happened to me during two days of testing.
An excellent media streamer
The AeroMobile is quite the competent streamer. The unit has its own Web portal and streams any formats your browser can handle. Those that it can't will be downloaded. I personally prefer using Windows Media Player for streaming via a DLNA server, so you can utilize DirectShow filters for MKV and the like. Speaking of which, the AeroMobile easily streamed by 30GB MKV rip of Master and Commander (after the usual pause by WMP at the five-second mark).