Three Windows multitasking features that help maximise your screen space
Here's how to get the most out of your PC's "desk space" using three features built into Windows.
Tasking the taskbar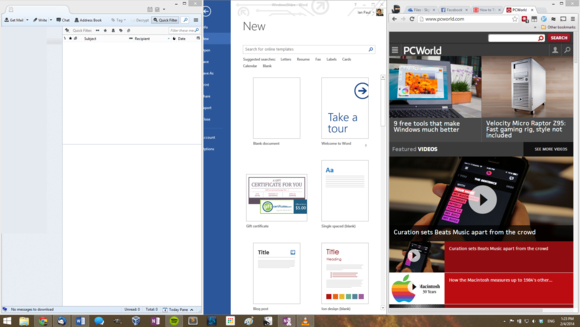 Three desktop programs displayed using the taskbar's 'Show windows side-by-side' option.
There are also some longtime window management features built into the taskbar that can come in handy when you need to see more than two windows at once. These features don't really help you maximize your desk space as much as they make it easier to find a specific window when you've got tons of desktop apps open at once.
Move your mouse down to the taskbar and right-click to show the context menu. You will see three different options: Cascade windows, show windows stacked, and show windows side-by-side. Be warned: Using these features will display all your open windows at once, but they'll also mess up the default sizes of your windows.
Once you've mastered these various methods you can even try combining them—Snapping a modern app to one-third of your display, say, and then snapping two programs side-by-side on the desktop at the same time. Who knows? You might just be able to retire the faithful ol' alt + tab shortcut if you really get the hang of dividing up your screen.