Three Apple Watch features that will make you think differently about smartwatches
Not impressed by the parade of wearables you've seen so far? Neither is Philip Michaels. But after laying hands on the Apple Watch, he saw a trio of features that make Apple's forthcoming gadget a pretty compelling piece of wristwear.
The Digital Crown is one of two buttons you'll find on the Apple Watch. The other is simply called the button, an Apple representative told me, and pressing it takes you a Contacts-like listing of friends. From there, you'll be able to send them messages, whether it's scribbling out a little sketch or placing a phone call via your connected iPhone. That button will also be the way you use your Apple Watch to take advantage of Apple Pay; double-click the button and hold up your watch to a payment reader, and you can pay for things without having to reach for your wallet.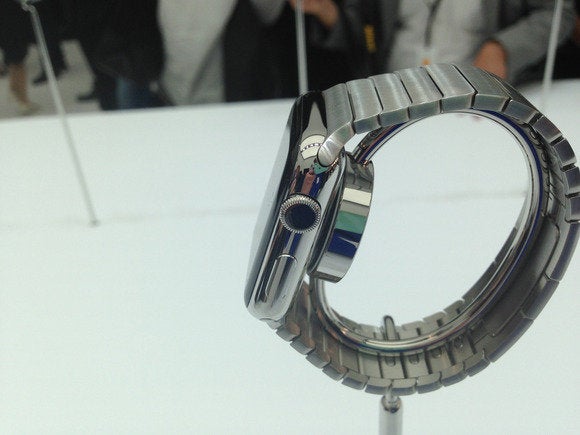 PHOTO: PHILIP MICHAELS.The Digital Crown (top) and the button just below it give you ways to navigate through your Apple Watch without having to rely on gestures that make no sense on such a small screen.
I like that Apple acknowledges there's only so many onscreen controls that make sense for a device the size of an Apple Watch. Even better, the Digital Crown seems like an easy-to-master, contextually aware control that will take a lot of the pain out of navigating a wrist-worn device. And good news, southpaws: Fast Company's Harry McCracken tweets that there will be a version that flips around the controls and interface for lefties.
The Apple Watch talks to you with a tap
I listened with a mixture of excitement and dread as Apple vice president Kevin Lynch talked about the Apple Watch's Taptic Engine, which uses a physical tap to alert you to notifications. It's exciting because Apple's really put a lot of thought into how to use this feedback. When your watch is giving you directions, for example, different kinds of taps will tell you whether to turn right or left. That's really cool.

PHOTO: PHILIP MICHAELS. You can't tell from this photo, but the Apple Watch can gently tap my wrist to alert me when something's up.
So why the dread? Well, who wants their watch to be poking them all the time?
As it turns out, I needn't have worried. While wearing an Apple Watch Tuesday, I got to feel the taptic feedback in action. And it's a pretty gentle prod-certainly nothing that's going to make you jump out of your skin, the first time someone tries to message you.
Using touch as a mechanism for feedback is a great feature. I can put my iPhone in silent mode, but if I leave it lying on a table, you're still going to hear it buzz when an email or text message arrives. But if I silence the Apple Watch's audio alerts-and the watch will beep and ding if you want-the only person who's going to know I've gotten a notification from my watch is me.
Previous Page 1 2 3 4 Next Page