Three Apple Watch features that will make you think differently about smartwatches
Not impressed by the parade of wearables you've seen so far? Neither is Philip Michaels. But after laying hands on the Apple Watch, he saw a trio of features that make Apple's forthcoming gadget a pretty compelling piece of wristwear.
I'm not a watch guy. It's not a fashion statement-I've just never enjoyed having anything on my wrists, be it jewelry, watch bands, and especially police restraints. There was a time back in the '90s when I gave pocket watches try, but that was a lamentable artifice. And with the advent of smartphones, whenever I want to know the time, there's already a device in my pocket that will let me know how late I'm running.
All of this is a roundabout way of saying that I am not the target demographic for the newly unveiled Apple Watch. So why did I find the device that Apple described at a special press event on Tuesday so compelling?
I think it's because after spending just a little bit of time handling the Apple Watch in the aftermath of Apple's two-hour event, I saw just how much attention the company has paid to every last detail of this high-end gadget.
I mean just look at this thing.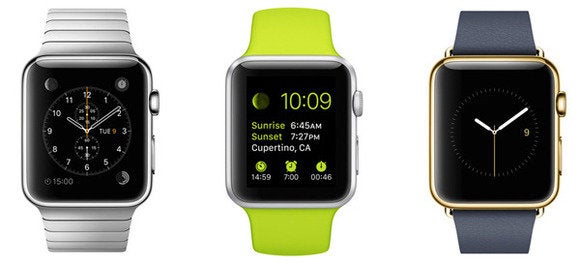 APPLE Some mighty pretty watches you've got there, Apple.
As sharp as those images look on a website, the physical watch is even more impressive in person. The stainless steel case makes the Apple Watch feel like a substantive device, not a snazzy digital toy, and that sapphire crystal screen feels like it could take a licking. I was actually more impressed with the models from the Watch Sport collection, which replace that stainless steel case with an anodized aluminum one; it felt light on my wrist, like it wouldn't get in the way during a run or a ride on the stationary bike. You know, if I were into that sort of thing.
As appealing as the Apple Watch looks, its appearance alone doesn't explain why this gadget impresses where other smartwatches have left me cold. Three things stand out from my limited time with the Apple Watch.
It's got really clever controls
You'll do some onscreen tapping and swiping with the Apple Watch. Swipes, in particular, will be a handy way to get summaries of things like your location, the weather, and your calendar. (Apple calls these slimmed-down snippets of apps "Glances.") But the screen of a wristwatch doesn't really lend itself to the sort of touch controls you'd use with a smartphone or tablet. To that end, Apple turned to the crown, which, on traditional watches can set the time and wind the watch. In the Apple Watch version, the Digital Crown becomes an all-purpose controller. You turn it to scroll through information on one screen, or zoom in on a photo in another. The Crown also gives you a way back to the Home screen; just press it like you would the Home button on an iPhone.