This sticker can wirelessly charge your smartphone or tablet
The wireless charging pad can send electricity to multiple brand devices at the same time.


Two Energysquare charging pads. Credit: Energyone. (Click for larger image).
Energysquare's founders claim the conduction technology can charge with the same speed and efficiency as a traditional wall charger. All that's needed is to equip the smartphone or tablet (Android or Apple) with a small sticker, which has a tail that plugs into mobile devices via a lightning or micro-USB connector.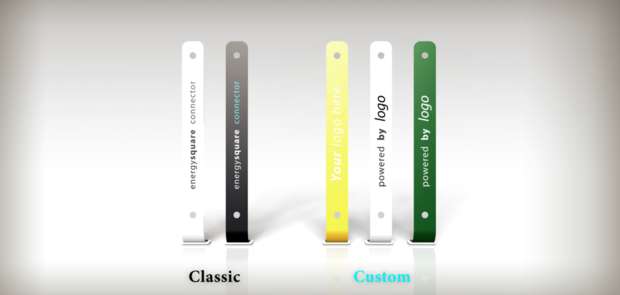 Energysquare offers its stickers in a variety of colors. Credit: Energysquare
"The charge is made possible by the direct contact between the sticker and the [charger's] surface," Guédou said. "It took us two years to complete a working prototype but our technology is now fully functional."
Energysquare is not the first to look at conductive charging as a method for offering the "charging pad" experience, said David Green, research manager for power supplies and wireless power at IHS. "And it's a valid technology."
The most prominent example of conductive wireless charging is the version created by JVIS USA, which later started the Open Dots Alliance to try and move an open source specification of the technology into the automotive environment, Green said.

An in-vehicle wireless conductive phone charger from JVIS USA. This model is an aftermarket device sold on Mopar.com. Credit: JVIS USA
"But traction for this type of technology is certainly limited compared to [magnetic inductive wireless charging]," Green said.
Most electromagnetic inductive wireless charging technologies today require special charging cases, which have copper coils embedded in them to receive the electrical transmission.
The strongest demand, highest customer satisfaction rates, and biggest volume of wireless charging-enabled devices, however, are for a charger that's embedded in the mobile device, as it is with the Samsung Galaxy S6 and now S7, Green said.
"The whole idea is that you don't need to plug anything in, you just drop it on the pad and charge - there's no accessory," Green said. "Within the mobile phone space, the present and near-term future is clearly inductive - that's what [device manufacturers] are already integrating and the standard is either Qi or PMA (increasingly dual-mode to offer both)."
The next step in wireless charging will be magnetic resonant, which allows more loosely coupled charging, so that a device can be a short distance (millimeters) away from a charging device.
"That's expected soon and is already seeing some public infrastructure deployments of chargers in readiness," Green said.
The long-term future could then bring the introduction of uncoupled systems using Wi-Fi and other technologies.