This is why the Nexus 6P is the Android phone you want next
Why would anyone buy a so-called "flagship" phone from one of Google's partners when this physical embodiment of Android Marshmallow is so crazy-freaking good?
Highly attentive and always aware
OK, this is where it pays to have a pure Android experience, because the highly customized flagship phones from Samsung, LG and the like won't always give you the operating system features that Google dreams up in its labs.
One of my Googly favorites is Ambient Display. When you toggle it on, the Nexus 6P will wake up and display a dimmed version of your lockscreen notifications whenever a new notification arrives. It's a similar concept to Ambient Mode in Android Wear, and comes in handy if you leave your phone in plain sight when you're kicking back on the couch or typing at your desk: As soon as you hear a notification ping, you can see the content of the alert. Ambient Display also comes to life when you lift the 6P off a flat surface.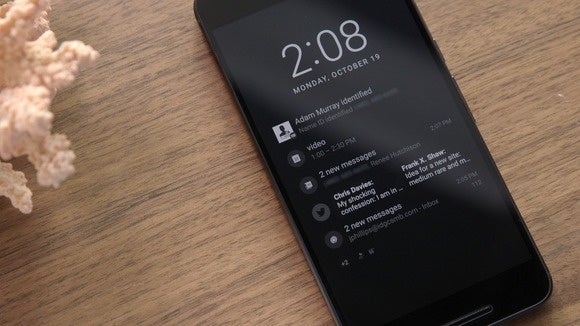 Ambient Display wakes your screen into low-power mode the moment a new notification comes in. And, yes, it can be toggled off for privacy. Credit: Adam Patrick Murray
Because it's a pure Marshmallow device, you can also set the 6P for "always on" Google Now commands. The upshot is that even when your phone is sleeping, it's always ready to do your bidding with an "OK Google" prompt. From across the room I can send a text to my girlfriend without ever touching my phone.
While that's lazy as hell, it's also sort of magical.
Google Now penetrates deep
Via the Android Marshmallow update, Google Now—the platform that delivers contextual information cards at just the right time and place—is now available in other apps. Simply long-press your home button, and the new Google Now On Tap feature will scan what's on your screen, and deliver contextual search suggestions when available.
Let me throw some scenarios at you.
Let's say a coworker sends a text with a dinner invite. She says everyone is meeting at Rich Table at 6 pm. Long-press for Google Now On Tap, and you'll get one card for creating a 6 pm calendar event, and another for a full set of links to the restaurant. The depth of information is impressive. For Rich Table, I got obvious links, like ones for navigating to the restaurant, calling its main phone line, and checking out its Yelp profile. But there were also direct links to its menu and even a walkthrough of its interior space, via Google Maps.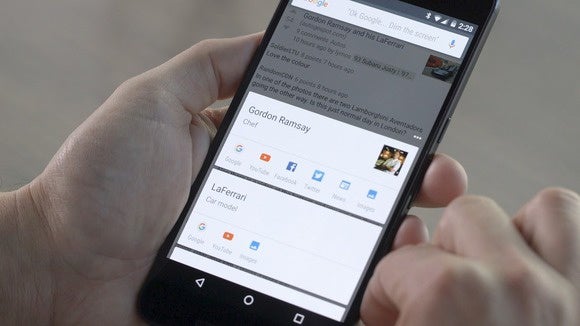 Google Now On Tap scans for keywords, and then surfaces links to relevant information and resources. Credit: Adam Patrick Murray