This 4K display is purpose-built for showcasing digital art
Klio is a 4K screen with its own Netflix-like digital art subscription service.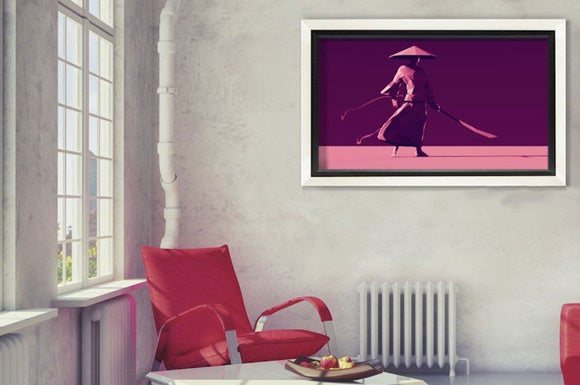 Credit: Art.com
You might think that digital picture frames are passé, but not everyone appears to be past them. A number of companies are attempting to turn these long-outmoded devices once again into a home décor must-have by casting them in a new light—as a medium for manifestations of digital art.
Art.com is one of the prominent names on this list. The leading art and framing e-tailer has introduced a digital art frame under its Klio brand, an offshoot that recently sprang forth from within the company's innovation division. The device in question is essentially a 4K LCD wrapped in a handcrafted frame.
"We believe that art lovers are thirsty for something new, and that digital artists deserve a platform for experimenting and expressing themselves in their medium. We didn't just bring existing art to KLIO in digitized form," said Nasos Topakas, Art.com CTO in a recent press release. "We set out to solve the problem of how to deliver a meaningful digital décor experience that can showcase newly pioneered art genres."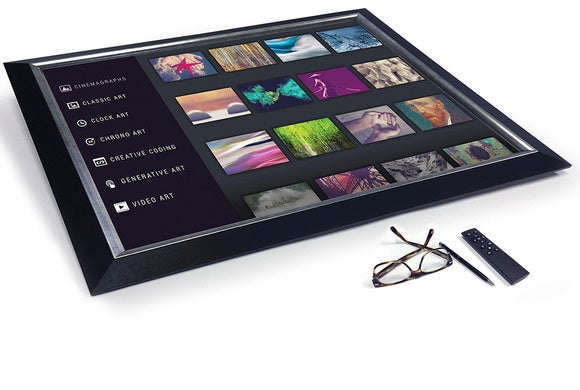 You can upload your own photos or art to the Klio frame, or you can subscribe to a service and choose from various collections to display. Credit: Art.com
The company believes 4K resolution (3840x2160) is ideal for showcasing art because you can literally lean into the art piece in order to better appreciate its finer details; observe a lower-resolution display at close quarters and you can discern individual pixels.
The wall-mounted device has a custom user interface running on top of a modified version of Android. It can be controlled via a dedicated remote control or from an Android or iOS device using the companion app. An integrated Wi-Fi adapter connects the Klio to the Internet, allowing it to tap into the company's cloud-based art repository.
Buyers get one year of free access to that library, after which they'll need to pay $10 per month. Art.com's library contains all kinds of digital art—from stills to videos to CSS/JavaScript-based programmatic pieces. Alternatively, you can also upload your own art pieces and images.
"Over half of the Klio digital art collection is original work created by independent artists specifically for Klio," per the company. It is also working on bringing more exclusive pieces to the collection. These will be made available on an a la carte basis in limited numbers.
You can order Klio in sizes ranging from 41 x 26 x 3 inches, to 47 x 31 x 3 inches (depends on choice of frame) and in a variety of finishes. Prices range from $1000 to $2,500.