These 7 innovative weather apps break all the rules
Weather apps are as numerous and varied as clouds in the sky, but some take the same old data much farther than a simple 5-day forecast.
Plus, the photos look pretty great, and you can share them on Facebook, Twitter, or Foursqure from inside the InstaWeather app; send them via email or SMS; save to your camera roll; and of course send them to Instagram. Photos you share to Instagram open up in that app, ready for filtering, tagging, and sharing. Free versions are available for iOS and Android too, but it's worth the $2 for the full version.
Living Earth—iOS ($3) and Mac ($7)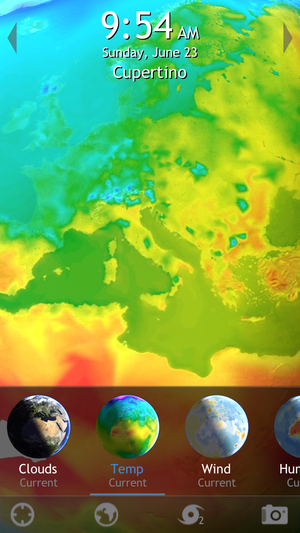 If you ever needed a reminder that weather is a global phenomenon, Living Earth has one—a globe, that is. It's a beautiful, zoomable, spinning globe that displays real-time cloud cover, so you can check out storm systems over the ocean as if you were peering down from a perch on the moon. If clouds aren't your thing, you can also see the current temperatures, wind, and humidity—either what's happening right now or what's in the forecast.
Tap the button that looks like a little hurricane symbol to see a list of active storms, and then tap one to zoom right to it. You can also save a list of cities and swipe between them, which whips the globe to that location so you can see the London fog or the rain in Spain.
A Mac version is available too, and even though this exact app isn't on Android, Google's platform has some imitators that still deliver the world as live wallpaper. The best is Live Earth Wallpaper, which can show you cloud cover across the globe, plus reports of earthquakes, hail, wind, and tornados.
Previous Page 1 2 3