The top 14 hidden features in Windows, iOS, and Android
Betcha don't know all these nifty tricks and time-saving tips to boost your productivity. Whichever OS you use, there's something here for you.
13. See what's eating up memory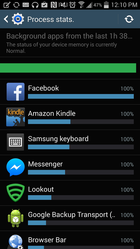 Your hungriest apps at a glance.
With Developer Options turned on, you can now delve into your device's memory utilization on an app-by-app basis. Just visitSettings > Developer options > Process Stats to get a handy visual display of your device's memory consumption. This can be especially helpful if your Android device seems sluggish.
14. Get an instant speed boost
Android "L" 5.0 (ship date unknown) will feature a new runtime called ART, which replaces the older Dalvik runtime that all existing Android devices use. (Long story short, this is a general performance enhancement for just about every Android app.) If you have Android 4.4 KitKat, you can get started with ART today, but bear in mind it is still experimental. To turn it on, access the Developer Options as outlined above and choose Select Runtime. Most users report few problems, if any, with the setting.
Previous Page 1 2 3 4