The top 10 memes, viral videos, and online goings-on that defined 2014
What was it for you—Kitten Jam? The Ice Bucket Challenge? Relive some of the hottest happenings on the Internet from the past year.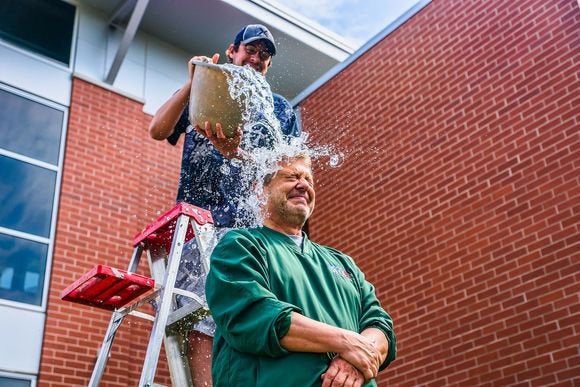 Alex from Target. Meghan Trainor. The Ice Bucket Challenge (brrrr!). Those are just 3 of the 10 biggest memes and videos that went viral in 2014. If you can name them all, you're either incredibly connected or incredibly tormented.
I'm not going to lie to you: It took me forever to pull this list together because I kept getting distracted by other videos and memes. Here's hoping the same fate doesn't await you as you read on.
1. Alex From Target breaks Twitter
Not long ago, Alex Lee was just your ordinary teenager. He went to school. He had a part-time job at Target. All normal teenage stuff. And then someone went and tweeted a "spy" photo of him bagging groceries.
Literally overnight, Alex went from a kid trying to make a few bucks to an Internet sensation and something of a teen heartthrob. He became a trending topic on Twitter, and even got to join Ellen DeGeneres on her talk show. Internet users responded by recognizing retail workers in their own neighborhoods, like Steve From Starbucks and Betty From Wal-Mart.
2. 'Too Many Cooks' breaks our brains
If you're a product of the 80s and 90s, sitcoms from the era have likely left an indelible mark. After all, who hasn't caught themselves humming the theme from Night Court?
Just me? Oh.
"Too Many Cooks," an 11-minute video aired late at night on Adult Swim, takes this TV kitsch and elevates it to a whole new level of absurdity. It starts as a spoof of sitcom opening credits and, well, takes quite a turn. And then another. And another. And...
Just try to watch it without having your brain melt. I dare you. (Advance warning: It's somewhat NSFW.)
3. 'All About That Bass' won't leave my head
Suddenly, it's everywhere--on TV. On the radio. On the news. And even if you don't know about it, you somehow know about it. What is it? Meghan Trainor's absurdly catchy song, "All About That Bass."
The song, which takes aim at society's unrealistic standards of beauty, currently ranks 10th on the iTunes Store's top songs list. The music video stands at over 400 million views on YouTube as of this writing, and it's spawned countless parodies and mentions in other popular media. Not bad for a song that's only about six months old.
4. Neither will Weird Al's 'Tacky'
I still have Pharrell WIlliams' song "Happy" stuck in my head, but Weird Al had his way with the catchy tune and somehow made it even more catchy? Is that even possible? Re-watch and judge for yourself.