The smartphone upgrade path may be fizzling
Buyer fatigue may be setting in with constant feature add-ons of limited value.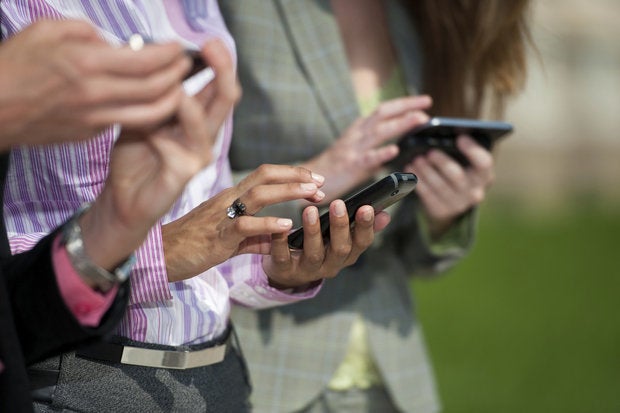 Apple and Samsung dominate global smartphone sales with several new flagship models announced each year.
But after years of fantastic growth in smartphone sales, the pace of growth is slowing overall, including for the two smartphone giants. Market research firm IDC recently said that 2016 will be the first year that overall smartphone growth will slow to below 10%.
There is even talk among analysts that the latest models don't have enough compelling new features to lure customers to a competitor's device. Others say smartphone buyer's fatigue has set in.
Buyer's fatigue is a concern in the U.S. and other developed countries where the smartphone market is viewed as a "replacement" market because the market is already saturated: Nearly everyone already owns a smartphone. A focus on emerging countries by Apple and Samsung still requires them to find low-cost alternatives to compete with the likes of Huawei and others.
"Consumers are fatigued about new phone features that they can't easily relate to any improvement in their personal use cases," said Patrick Moorhead, an analyst at Moore Insights & Strategy. "Samsung has been one of the worst offenders of this in the last few years. If consumers can't relate, then they need to be educated."
Most recently, reports that Samsung would add a pressure-sensitive display and high-speed charging port to its Galaxy S7 phone drew a few yawns. That's because Apple added the pressure-sensitive display to the iPhone 6S last summer, and a new USB Type-C fast charging port is already available in LG and Huawei smartphones.
While it is to Samsung's advantage to keep up with Apple and others rivals, analysts disagree over whether these latest improvements will provoke an iPhone user to switch to a Galaxy. Moorhead said a faster Snapdragon 820 processor in the Galaxy S7 could make some iPhone users switch, but on that point there is also disagreement.
"It seems to me the processor race has been replaced by the higher megapixel display race, but the reality is that for your average consumer, neither of these features is easy to detect or appreciate, as they both depend [on software and] other things," said Carolina Milanesi, chief of research for Kantar WorldPanel. "A faster processor improves performance, but there are other factors such as poor wireless coverage that also impact performance, so it is hard for the user to really appreciate what is what. I also think a faster processor is not a high level upgrade."
What Milanesi pointed to as a reason to buy a new smartphone is not one feature, but a number of features in combination, which makes it tougher than ever for effective marketing by smartphone vendors.