The Samsung Galaxy S4 watches you back
Samsung's latest Android handset has more features than you can shake a stick at.
Samsung unveiled the Galaxy S4 to a crowded concert hall late Thursday evening. The phone is the latest in the company's line of Android smartphones and boasts many improvements over its popular predecessor the Galaxy S III.
The Galaxy S4 has a 5-inch 1080p display that changes its brightness, contrast, and color saturation depending on the content you are viewing. At 7.9mm the phone is thinner than the Galaxy S III, though it's slightly thicker than Apple's iPhone 5. The phone's 2600mAh battery is removable, and the Galaxy S4's 13-megapixel camera comes with software that lets you edit unwanted people and objects out of photos. The camera also lets you shoot photos and videos with both the front- and rear-facing cameras at the same time-an interesting capability but not one I think I'll use all that often. The phone has 2GB of RAM and comes with a 1.9GHz quad-core processor.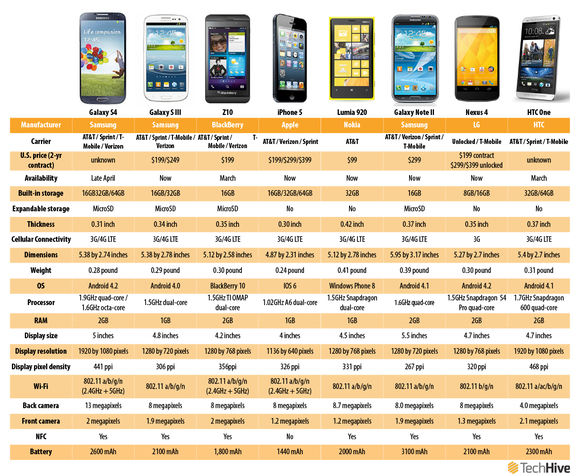 The software
The phone runs Android 4.2 Jelly Bean and includes extras that will hopefully make the phone more useful. These include the ability to translate text or speech on the fly and an IR blaster so that you can use the phone as a universal remote control. The Galaxy S4 is also the first phone to ship with Samsung's Knox software, which provides additional security and makes the phone more appealing to enterprise users. One of the Galaxy S4's standout features, however, is its ability to tell when you are looking at the screen. Samsung had a similar feature in the Galaxy S III with Smart Stay, but the S4 lets you pause video when it detects you aren't looking at the screen and you can have the phone scroll down when your eyes reach the bottom of a page.
If that wasn't sci-fi enough for you, the phone can also be controlled without even touching it. Samsung has adapted the Air View feature from its Note line of devices so you can now hover your finger over the screen to preview images, links, and emails like you could with the S Pen on the Note II. Samsung demoed this feature at its event by having someone swipe their hand over the screen in order to flip the page of a magazine. Samsung has also improved its S Voice software and has launched a new S Voice Drive app that lets you use the phone hands free while driving. The app will tell you who is calling, and give you easy access to things like Google Maps without you needing to take your eyes off the road.