The other tablet: How the Surface 2 beats the iPad
Apple's iPad may be more well-rounded, but the Surface 2 and Windows RT 8.1 win screens-down for Office-centric productivity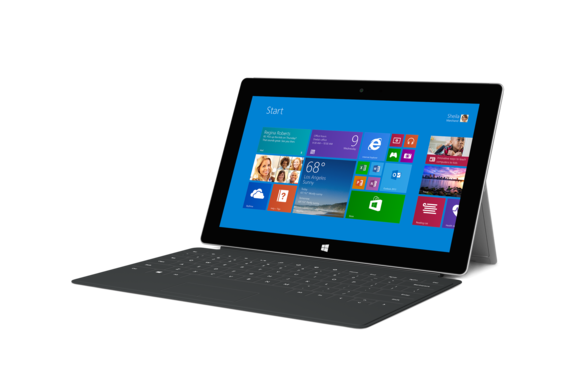 October 22 was supposed to be the Surface's shining moment: the day the leaner, meaner, faster Surface 2 (and its brawnier cousin, the Surface Pro 2) hit the streets, buoyed by midnight launches and Pitbull concerts.
Then Apple announced plans to hold its iPad announcement on October 22, and just like that, Microsoft's tablet is once again playing second fiddle to Apple's on-the-go maestro before it even gets out the door.
But that doesn't mean the Surface 2 is a futile endeavor. Microsoft's ARM-powered tablet blows the pants off the iPad...if you have demanding productivity needs.
Office on the go, forever
When PCWorld spoke to a cadre of first-gen Surface RT lovers, all of them—every single one—bought the tablet for productivity, not pleasure. In particular, they were drawn to the Surface's mixture of Office Home & Student and extreme endurance, along with the machine's USB port and MicroSD card slot—two relative rarities in the tablet world.
"I love [the Surface RT] for its niche," said Andy Rathbone, the author of Surface for Dummies. "It's the only portable device that can run Microsoft Word for ten hours between charges."
The Surface 2 stands ready with even more-powerful and longer-lasting hardware, as well as the clamored-for addition of Outlook RT 2013.
Windows RT 8.1 should also help, thanks to its enhanced Mail app and numerous new features that smooth over the Modern UI's rough edges and make it easier to stay in Microsoft's touch-friendly interface. Windows 8's "Snap" multitasking features, PC-esque settings, dynamic Live Tiles, Internet Explorer 11, and semblance of a filing system were its big draws over iOS. Windows 8.1 builds upon each of those, and its deeper ties to SkyDrive forge a tighter bond between your tablet and primary computer than is possible with Apple's ecosystem. (Microsoft is tossing in 200GB of free SkyDrive storage for two years with each Surface tablet.)
Touch me, type me
Beyond the baked-in improvements, a wave of new and updated Surface accessories add to the tablet's productivity potential.
The revamped Touch and Type Covers are backlit, while a new Power Cover with a built-in 30W battery and a Surface car charger (complete with USB port!) keep the words flowing for longer than Microsoft's tablet can do by its lonesome. An optional adapter wirelessly connects your keyboard to your tablet via Bluetooth to allow you to type from anywhere in the room—an incredibly niche need, but one that fits right into the Surface 2's focus on productivity.
It's another accessory, however, that hints at a future full of possibilities for the Surface: The Music Cover.