The Orion spacecraft is no smarter than your phone
Running 12-year-old processors, next-gen spaceship's tech is built for reliability, not to be state-of-the-art.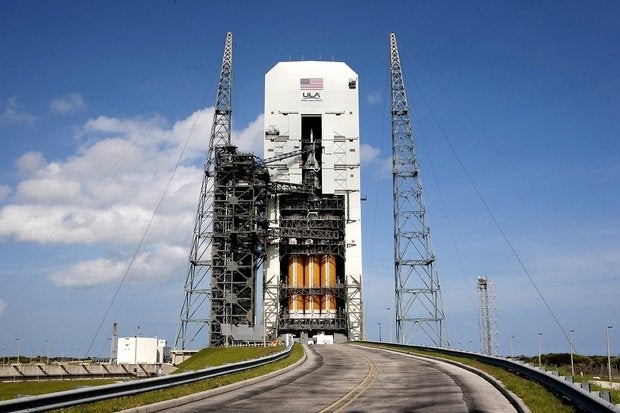 The Orion spacecraft and Delta IV rocket can be seen inside the mobile service tower at Cape Canaveral.Credit: NASA
Orion, NASA's next-generation deep space vehicle, is going to eventually fly to Mars - run by a computer that's no smarter than your smartphone.
Orion, whose launch this morning was delayed until at least Friday, doesn't carry state-of-the-art computers and its processors are 12 years old -- making them ancient in tech years. The spacecraft, according to one NASA engineer, is built to be rugged and reliable in the face of G forces, massive amounts of radiation and the other rigors of space.
When a spacecraft is designed to carry humans into deep space, reliability is more important than using the latest and most powerful computers, said Matt Lemke, NASA's deputy manager for Orion's avionics, power and software team.
"Compared to the [Intel] Core i5 in your laptop, it's much slower -- much less powerful," Lemke told Computerworld. "It's probably not any faster than your smartphone. But it's not about the speed as much as the ruggedness and the reliability. I just need to make sure it will always work."
The space agency is accustomed to using older technology.
NASA's latest and most powerful rover to arrive and work on Mars, Curiosity, also runs on a computer no more powerful than the one in a smartphone.
Now, it's relying on similar power in a spacecraft that will not just drive across the surface of another planet but will ferry human cargo through space.
Orion is the first deep space vehicle that NASA has built since the Apollo missions of the 1960s and 1970s. However, unlike the more recent space shuttle, Orion is built to go far beyond Earth orbit.
NASA expects Orion to travel to an asteroid in the 2020s and then to carry astronauts to and from Mars in the 2030s.
The spacecraft was set to make its initial test flight Thursday morning. But after a series of issues including wind gusts and a glitchy rocket valve, it was unable to lift off from its launch pad at Cape Canaveral Air Force Station. The space agency plans to try again during a launch window that's open from 7:05 a.m. to 9:44 a.m. ET on Friday.
Since this spacecraft was constructed about 50 years after Apollo, it's obviously far more advanced, carrying state-of-the-art parachutes, heat shield and life-support systems.
As for Orion's main computer, the space agency is using a Honeywell International Inc. flight computer originally built for Boeing's 787 jet airliner. The computer, which at this point runs everything on the uncrewed spacecraft, has been ruggedized for space travel with larger housing, a thicker circuit board and hardware to minimize vibrations.