The Oculus Rift consumer model will launch in early 2016, after Valve's VR headset
Oculus has been busy wrapping up ecosystem support for the Oculus Rift, but the delay may cost it the crucial first-to-market status for the fledgling field of VR.
Speaking of VR worlds, Oculus has also been busy locking down actual PC game support for the Rift's launch. The company's been assembling a gaming dream team-Doom creator John Carmack and Naughty Dog co-founder Jason Rubin both call Oculus home these days, as well as Jason Holtman, the former head of Valve's Steam. CCP's mind-blowing EVE: Valkyrie space combat game has been announced as an Oculus Rift launch exclusive.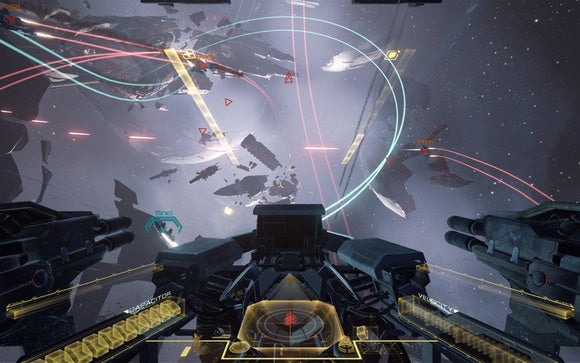 Spectacular space combat game EVE: Valkyrie will be an Oculus Rift launch exclusive.
Some of the best games of 2014, including Elite: Dangerous and Alien Isolation, already baked in support for Oculus prototypes, and the list of extraordinary Rift demos available is practically endless. Oculus promises details for "many of our unannounced made-for-VR games and experiences coming to the Rift," in the coming weeks, as well.
"At launch we don't just want to have a token five, six or seven launch titles like a lot of consoles," Oculus founder Palmer Luckey said last September. "You have to have a lot of stuff coming out the door at launch. So I guess to those people who are waiting: keep waiting and it will be worth the wait."
Update, 08:30 PDT: Oculus co-founder Nate Mitchell confirmed at TechCrunch Disrupttoday that the Consumer Rift will cost "more than GearVR" (which retails for $200) but declined to provide an exact price.
Mitchell was also asked if we'd ever see the Rift compatible with PS4/Xbox One, to which he replied, "Anything is possible."
And while anything is technically possible, that statement seems a bit pie-in-the-sky when he also said today "You're going to want a nice gaming rig" for the Rift launch. Consoles have their perks, but as far as I know aren't powerful enough to render big-budget games at the speed and resolution required by VR. The Xbox One has enough trouble hitting 1080p at 60 frames per second, let alone more than 1080p at 90 frames per second (Oculus's target).
We'll keep you updated though if Oculus somehow fashions a miracle out of the console hardware.
Our resident games reporter Hayden Dingman also contributed to this report. This article was originally published at 9:30 AM EST but updated at 12:45 PM with additional information.