The Nokia Lumia 925 is just another Lumia in a sea of Lumias
It's a great smartphone with a great camera, but not much else stands out about it.
Another day, another Windows Phone. It's unfortunate that Microsoft's mobile operating system hasn't had much traction since it debuted in late 2010, but at least those who have adopted it seem to swear by it. Nokia's latest, the Lumia 925, isn't much of a departure from the last few iterations of its Windows Phone 8 hardware. It's essentially a refresh of last year's handset, the Lumia 920, but with a bit of added panache, like a thinner body to fit your hand better and a suite of extra software features. It's a capable phone, but Nokia forgot to include a marquee feature that would help it stand out from the crowd.
Hey, there, good lookin'


MIKE HOMNICK. The Lumia 925 is thinner and lighter than its predecessors. It's about time, Nokia!
The Lumia 925 is the first of the Lumia family to sport the stylish metal-accented chassis, which also works as an antenna. At 8.5 millimeters thick, it's a bit beefier than some of its competitors, but it's comfortable to hold and it's not as heavy as some of its predecessors, like the Lumia 900 and 920, which felt like veritable bricks in the hand.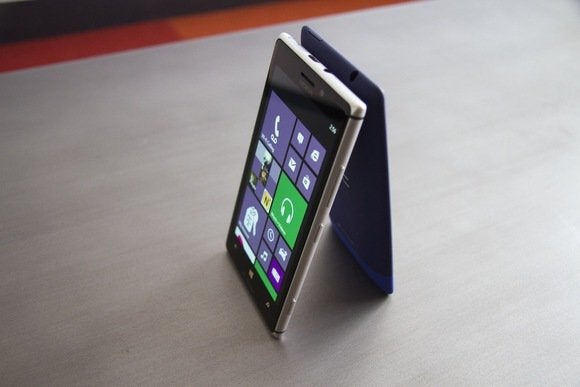 MIKE HOMNICK. That screen is bright and noticeable from any angle.
The 4.5-inch, 334 pixels-per-inch (ppi) Super AMOLED screen is striking: blacks appear black, while other colors appear true to nature. AMOLED screens are known for their intense brightness and high resolution, but the Super AMOLED produces a crisper image. The difference in display is particularly noticeable when the 925 lays next to other Windows Phone competitors like the HTC 8XT, which features more faded colors, but overall the 925 features the exact same resolution as its predecessor and Nokia's most recent handset release, the Lumia 1020. As an added bonus, you can still use the 925 with your gloves in the cold weather—like the Lumia 920, its "Super Sensitive" touchscreen works through fabric or with long fingernails.
It's fast, but not without a caveat


MIKE HOMNICK. The Lumia 925 has the same internals as its predecessor, the Lumia 920.
Inside, the Lumia 925 features the same 1.5Ghz dual-core Qualcomm Snapdragon S4 processor and 1GB of RAM as its predecessor, the Lumia 920, and Nokia's most recent release, the Lumia 1020. Its innards are a bit dated at this point, at least compared to other high-profile handsets on the market, but you can't tell the speed difference between the Lumia and the Android-fueled HTC One, for instance, because the two platforms are so vastly different. For the most part, the Lumia 925 felt speedy; multitasking was quick and easy, and switching back and forth between games or applications to the home screen was a cinch. The only applications that ever crashed were decidedly buggy ones that were easily fixed with a quick reinstall.