The next home-networking revolution will be wired
This is not yesterday's clunky ethernet, nor today's flaky wireless. The new HDBaseT standard uses just one cable for all data and power.
Wireless networks are fabulous, until they aren't. Theoretically, you can deploy an 802.11ac router and send data, audio, and high-def video zipping throughout your home without any wires. That is, unless your home has very thick walls or multiple floors, or your client device is too far from your Wi-Fi router, or your neighbor's wireless network stomps on yours, or your microwave oven creates interference. Meanwhile, your TV, Blu-ray player, set-top box, video projector, media streamer, and every other network device in your home still depends on a wired connection for power, and probably an HDMI cable for video and audio.
Meet HDBaseT, the one-wire network
The HDBaseT Alliance wants to change all that with a strategy it has dubbed "5Play convergence": a wired network that carries digital video, audio, data, control signals, and--most interestingly--100 watts of electrical power over a single low-voltage cable. The cable (CAT5e, CAT6, or CAT7) can be up to 328 feet long, and if you need more distance than that, the standard supports up to eight hops with the deployment of signal repeaters.
And we're not talking about just any video and audio data: The standard provides enough bandwidth to transport uncompressed digital video of up to 4K resolution, and up to eight channels of uncompressed high-definition audio. (While the standard supports all the audio and video formats present in HDMI 1.4, HDBaseT does not support HDMI's audio return channel feature. Equipment manufacturers, however, have come up with work-arounds for sending digital audio from the TV back to an A/V receiver.)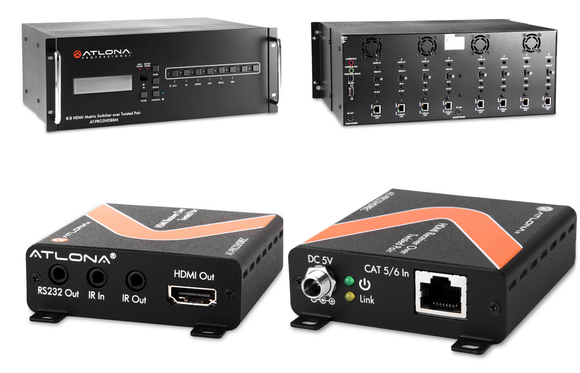 Atlona Technologies manufactures an 8-by-8 HDMI matrix switch and receivers based on the HDBaseT standard (front and back of each device shown here).
HDBaseT supports ethernet speeds of up to 100 megabits per second, more than fast enough for most broadband Internet connections delivering everything from video on demand to multiplayer gaming. It can also carry control signals, including CEC (Consumer Electronics Control), RS-232, and infrared. So if your TV is in one room but your PC, set-top box, or A/V receiver is in another, you can remotely control all that gear from the room where your TV is located. Version 2.0 of the standard will add support for USB.
Just one cable and a couple of boxes
The reason your flat-screen TV is sitting atop a cabinet instead of hanging on the wall like the ones in those high-falutin' home magazines is because you don't want to hire a high-priced electrician to install an electrical outlet in the middle of your wall. And while HDMI is a great standard, it doesn't tolerate long cable runs.
You won't need an electrician with HDBaseT, and you won't need a pricey active HDMI cable, either. However, you will need is to install a couple of junction boxes in your walls and wriggle through your attic or crawl space to fish a single CAT5e or CAT6 cable to carry audio, video, Internet, control signals, and power to that TV. Your TV needs to be a newer model with conservative power requirements.The standard also supports HDCP digital rights-management technology, so there are no barriers to streaming copy-protected content.