The new Space VR app makes Microsoft's vision of a virtual HoloLens office a reality—now
At some point we could replace physical monitors for virtual ones.
If you thought Microsoft's vision of the holographic office was cool, you might be happy to know that you can already work on a version of it today—just not using the Microsoft HoloLens.
Chinese developer Pygmal Technologies recently released a free beta of Space (also known as Space-VR), an app for either the Oculus Rift or the HTC Vive. Like what Microsoft showed on stage at its Worldwide Partner Conference, Space allows you to pin multiple windows to a spot in virtual space so you can see everything at once—though so far, it appears to restrict you to browser windows.
(The other difference is that the HoloLens uses augmented reality, superimposing graphics over the real world. Both the Vive and the Rift use virtual reality, which covers your eyes with what essentially is a computer monitor.)
The idea, as anyone who's used multiple monitors knows, is that you become more productive when you can see everything that you're working on at once. The Space app allows you to organize six large windows around your face, in much the same way you'd be able to physically place large monitors on your desk. Pygma claims the whole experience has been optimized for readability.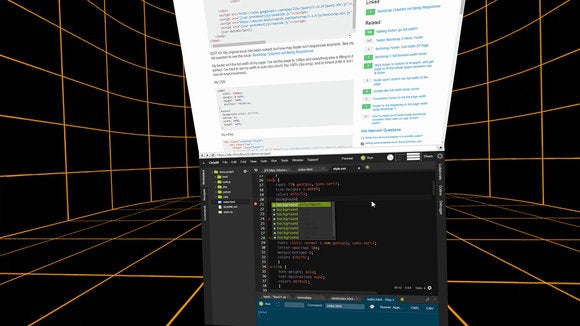 You can arrange multiple windows as you'd like, with your choice of backgrounds.
Launching a window in full-screen mode triggers what Pygmal calls "theater mode," where the window seems to curve slightly to wrap around your head as you look back and forth to fill your field of vision. Users can also set 360-degree photos as backgrounds for Space—so as you swivel your office chair, you'll be able to pan around the backdrop as well. (A static background may also help eliminate the "simulator sickness" that seems to affect gamers who become disoriented when focusing on moving VR objects.)
Space appears to be targeting a slightly different audience than Virtual Desktop ($14.99 on Steam as of press time), an app for both VR platforms that appears to try and mimic your multimonitor setup in VR. If you have two monitors, for example, it appears that Virtual Desktop will display two windows. Space appears to go a step further, and carves out more virtual windows for you to play with, regardless of how many physical monitors you own. But Virtual Desktop also offers its own perks: You can use whatever PC app you'd like, and the app includes its own fleshed-out theater mode as well as some nifty audio visualizations.
(Startup 8ninths has also developed a HoloLens-powered physical desk that leaves space for virtual windows as well as physical monitors.)
For now, Space is much more limited—but it's also free. "When it goes out of beta, we will keep it at a very low cost (or even free) for non-commercial use," Pygmal pledges. "We also plan to sell licenses for commercial use."