The new Mac Pro: Hands on, and what you need to know
What better place than a room full of developers--people accustomed to harnessing as much computing power as they can get their hands on--to unveil a brand new Mac Pro? And so that's just what Apple did on Monday, devoting a large portion of the 2013 WWDC keynote to a product we've long been hoping for--and even predicting. It's a new Mac Pro, not at all like the old Mac Pro, and it's coming later this year.
Also getting a big boost is the Mac Pro's graphics capability. Unlike the current tower, the new model comes stock with two GPUs, each an AMD FirePro workstation GPU with up to 6GB of dedicated VRAM. Apple says those two GPUs offer up to 7 teraflops of performance--compared to 2.7 teraflops for the current Mac Pro--and can drive not one, not two, but three4K-resolution (3840- by 2160-pixel) displays.
Storage should be dramatically faster, as well. Whereas the current Mac Pro uses traditional mechanical hard drives, and most of Apple's other computers use standard flash storage (either SSD or flash memory soldered to the motherboard), the new Mac Pro will use next-generation PCI Express flash storage. According to Apple, this new type of flash storage is up to 2.5 times faster than the fastest SATA-based solid-state drives (1250 MBps versus 500 MBps); it's up to 10 times faster than a 7200rpm SATA hard drive (110 MBps). (Apple doesn't say how much faster this new storage technology is than the motherboard-based flash storage on the current MacBook Pro.) The other advantage of PCI Express-based flash storage is that you should be able to easily upgrade it. (More on that below.)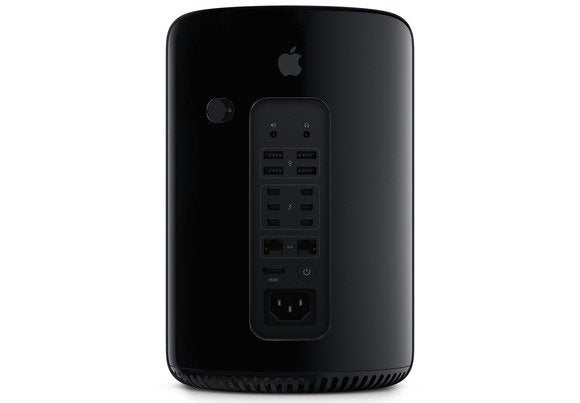 Of course, the new Mac Pro also--finally--gets faster connectivity, as well, sporting sixThunderbolt 2 ports (which are up to twice as fast as the first-generation Thunderbolt ports on the rest of Apple's current computers) and four USB 3.0 ports, compared to four FireWire 800 and five USB 2.0 ports on the current Mac Pro.
And, finally, Apple has improved wireless performance, adding 802.11ac Wi-Fi and giving the 2013 Pro the same Bluetooth 4.0 circuitry found in every other current Mac. (The new model offers the same pair of Gigabit-ethernet ports as current models.)
How upgradeable is the new Mac Pro?
The new Mac Pro's RAM is situated in four memory slots and can be upgraded easily--you just slide off the computer's cylindrical, metal sleeve, pop out the old memory, and insert new DIMMs. Apple's tech info about OS X Mavericks (PDF link) notes that OS X 10.9--which the new Mac Pro will presumably ship with--supports up to 128GB of RAM.
The computer's flash storage is also upgradeable, as it sits on a small card that connects to a socket on the motherboard. This means you can pop out that card and replace it with a new one.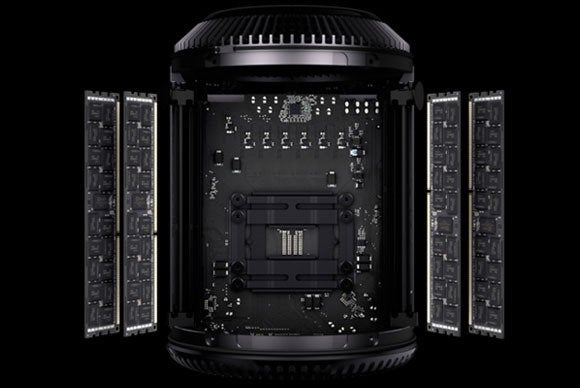 Before the new Mac Pro was announced, one of the frequent comments we heard was that professional-level users want upgradeable video cards. We can't say anything definitively based on the limited information Apple has provided, but Apple's website sure makes it look as though those dual GPUs are permanent residents--it doesn't appear that you'll be able to swap them out for more-powerful versions down the road.
Previous Page 1 2 3 4 Next Page