The Moto X is the most convenient Android phone ever
The Moto X proves you don't need cutting edge specs to make a great Android phone.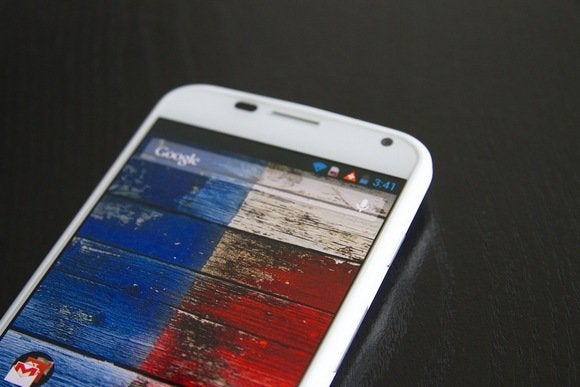 The Moto X reveal didn't deliver the super phone many Android fans were hoping for, but Motorola's latest flagship handset isn't playing the spec game like Samsung and HTC. With the Moto X, Motorola and Google are changing the way we interact with our devices, opting to cram the phone with sensors rather than extra processing cores. The philosophy behind the Moto X is a laudable one, and I hope that other Android phone manufacturers take note: Your phone should work with you to make your life more convenient.
"Okay Google Now"
he Moto X is packed to the brim with sensors that help it predict what you'll need from it next. For instance, the phone will automatically display the time when you slide it out of your pocket or pick it up, without you having to press the power button. It's convenient and helps save some battery life since it doesn't light up the entire screen, only a small portion of it. I'm a big fan of the feature and wish someone had thought of it sooner.

Active Display shows you which apps need your attention.
Another interesting feature of the Moto X is Active Display. The phone lacks a notification LED, so all your notifications show up on the lock screen. The screen will pulse softly when you have a new notification, and you can easily see which apps are trying to get your attention. If you want to see more information about a certain notification, you can press and hold the center of the screen while Active Display is on to see a small preview. Active Display works with all Android apps that give you a notification, and you can manually select which apps utilize the feature should you find too many of them clogging up your screen.
The Moto SmartActions app that was on previous Motorola phones has been replaced by a new Moto Assist app. Whereas SmartActions let you create a wide variety of actions to help automate your phone and get the most out of it, Moto Assist is extremely basic and only offers actions for when you're driving, sleeping, or in a meeting.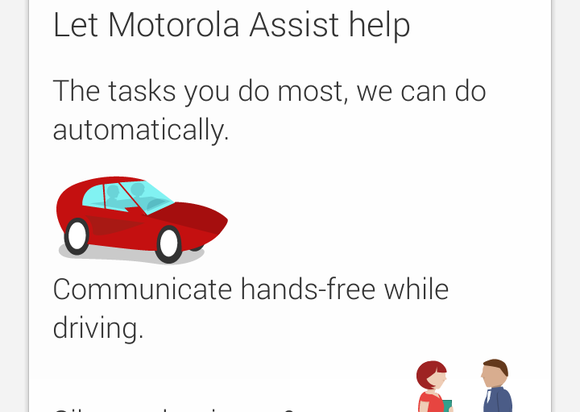 Moto Assist
The phone can detect when you're driving and can read aloud your text messages to you and tell you who is calling. You call also set the phone to silence itself between certain times, similar to the Do Not Disturb feature introduced on iOS 6. Moto Assist is certainly less complicated than SmartActions, but I liked the flexibility of SmartActions and hope Motorola can add additional actions to Moto Assist in future updates.