The FitNatic Nourish, and other cautionary crowd-funding tales
Revelations of the sketchy track record of two members of the FitNatic team prompted us to look back at successful crowd-funding campaigns that failed to deliver.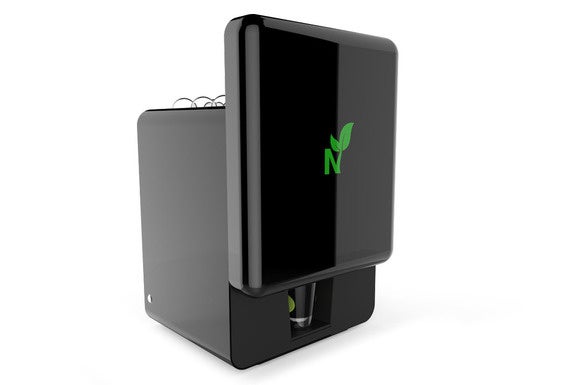 You might have noticed that TechHive has dialed way back on the number of crowd-funding campaigns that it covers. The ones we do report on must be especially noteworthy and credible. After this reporter saw a working protoype of the FitNatic Nourish—a countertop device that analyzes personal data and spits out powdered supplement blends tailored to your lifestyle—my editor decided it met that standard.
Earlier today, FitNatic cofounder and CEO Stephen Lamarre announced on Indiegogo that after "a thorough investigation to reveal the facts and decipher all of the lies," FitNatic was "severing ties" with team members Aldo Beqiraj and Jesse Caruso, postponing its Indiegogo campaign, and issuing immediate refunds to everyone who had contributed.
Wha' happened?
Two weeks after FitNatic's Indiegogo campaign went live, a Reddit thread popped up questioning the integrity of FitNatic co-founders Aldo Beqiraj and Stephen Lamarre. The thread lists five recent crowdfunding campaigns that Beqiraj and Lamarre have been associated with—all of which were successfully funded, but thus far have failed to deliver any products.
'[Beqiraj's] plan was to get the project overfunded and then deliver as cheaply as possible.'
The most notable of these campaigns is for Bringrr, a car charger that alerts you (via low-energy Bluetooth tags) if you're missing important items, such as your phone or your wallet. In early 2014, Bringrr, which was started by Beqiraj, brought in more than $150,000 in two separate campaigns (one on Kickstarter and one on Indiegogo), but it has yet to deliver any products or rewards to its backers. Beqiraj, in the meantime, was ousted as CEO in October 2014.
Other unfinished projects associated with Beqiraj and Lamarre are Grab a Bite, which was successfully funded on Indiegogo for $10,134 in August 2013 (Beqiraj's LinkedIn page lists him as CEO and Founder of that company); SmartWallet, which was successfully funded on Kickstarter for $36,237 in September 2014 and then on Indiegogo for $11,568 in January 2015; Jookbox, which was successfully funded on Kickstarter for $40,542 in November 2014 and then on Indiegogo for $17,321 in February 215; and SkyTag, which was successfully funded on Indiegogo for $37,735 in July 2015. So far, it looks as though none of these campaigns have yielded any products for their backers.
Was FitNatic scamming crowd-funders?
Even projects with celebrity backers and working prototypes can fail to deliver, thanks to manufacturing problems, mismanagement of funds, or overly ambitious goals. But there might be more than that to the FitNatic story.
I spoke with someone who says they worked at a high level on several of Beqiraj's and Lamarre's failed projects. This source, who asked to remain anonymous, said that Beqiraj and Lamarre did plan to deliver products when they initially created their campaigns, but that they did not necessarily tell their backers the whole truth.