The first things you should do with your new Android phone
Follow our guide to making the right tweaks and getting the best apps for your new device.
Another key item is online photo backup. You'll likely use your new phone to take thousands of pictures, and you don't want to lose them just because you drop your phone down the stairs. The best is Google Photos. If you have a non-Nexus phone the app may not be set as default, as many handset makers include their own image gallery.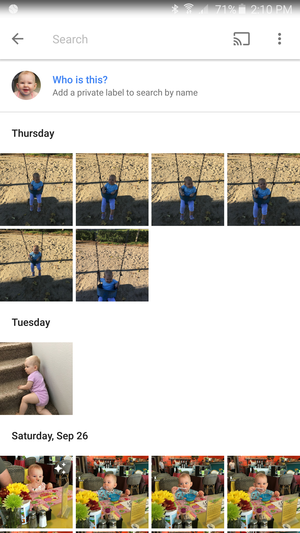 Identify your super, cute kid with ease thanks to Google Photos.
Use Photos and turn on auto backup, which is unlimited if you're willing to live with a little compression. Otherwise photos count against your Google storage, which starts at 15GB for all your Gmail and Google Drive content.
The last tip to worry about is that if you're moving from an iPhone, you need to disable iMessage. Otherwise when someone text messages you from an iPhone, it will still try to go to your old iOS device. Apple has a dedicated site to turn this off, so messages sent to you will default to SMS or MMS and come to your Android phone.
Live and learn
Android is powerful, but it can also be more complicated. You'll have to pay attention to software updates. That's because unless you have a Nexus device (where the updates come directly from Google), your manufacturer controls when you get the latest version of Android. And if it's a carrier-branded device, the update has to go through another layer of testing with your carrier.
The good news is that practically all of Google's apps are updated through the Play Store. Same goes for Google Play Services, which controls a lot of APIs that developers can tap into to add functionality to their apps. So even if you don't have the latest build of Android, you may still be able to get the most recent features.
Despite these shortcomings, Android is an exciting place to be. Marshmallow is the best release yet, and Google has finally built an excellent, stock device with a great camera in the Nexus 6P.
Previous Page 1 2 3 4