The first things you should do with your new Android phone
Follow our guide to making the right tweaks and getting the best apps for your new device.
However, you should spend a couple minutes in the Play Store looking atother SMS options. Another alternative: if you use Hangouts a lot, you can set up the app to handle both SMS/MMS and Hangouts chats. Go to Settings > SMS and press SMS disabled.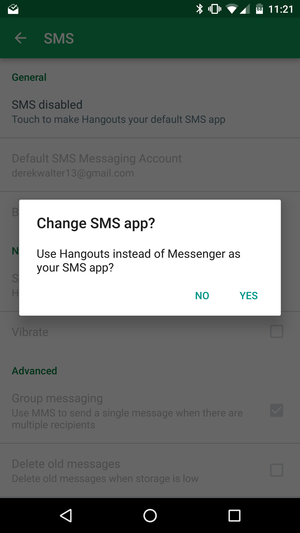 Hangouts is a great alternative if you want all your conversations in one place.
Then all your conversations will be tucked away neatly in the same app. Try it out and see if it's a setup you like.
Grab a custom launcher
One of the advantages of Android is the degree to which you can customize your phone. An excellent way to place your mark on your device is through a custom launcher.
If you have a Nexus device, there's nothing wrong with the stock Google Now Launcher. But if you want to change things up more, then check out Nova Launcher Prime and Action Launcher 3.

Nova Launcher Prime has the look of the Google Now Launcher, but a ton of extra flexibility.
With Nova Launcher, you can change up just about everything: the screen scroll effects, how icons look, and how many apps you can cram on each page. It's well worth the $4, and it will feel downright liberating if you're coming from the iPhone.
Action Launcher 3 is the other top dog here, with the ability to add in custom gestures and get as crazy as you want by turning the Google search bar teal. The app also embraces Material Design, so it could be a good alternative if you like Google's aesthetic but want more customization choices.
Set Do Not Disturb mode
As with any operating system, some of the new features are hiding in plain site. One of them is the Do Not Disturb mode. It works a bit differently in Marshmallow than Lollipop, but either way you can get to it by opening Settings and going to the Sound and Notificaiton menu. This allows you to put your phone into a "leave me alone" state where push alerts won't pester you.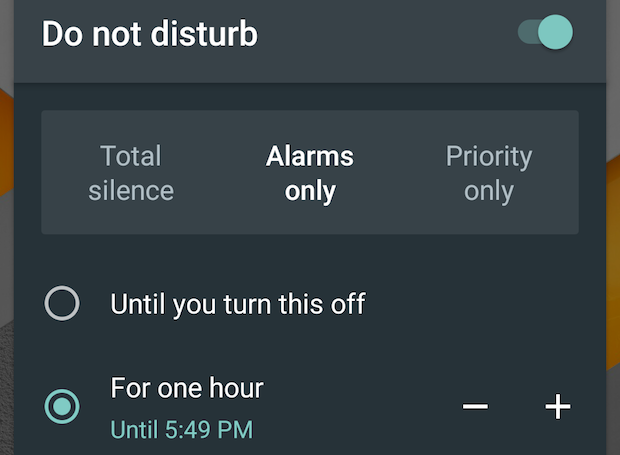 If you have a device running Android 6.0 or later, check out our guide because it got quite the revamp. Some of this may differ depending on your device, but you'll want to know how it works because it can give you some needed peace and quiet. And you don't want notifications beeping and buzzing and waking you up in the middle of the night.
A couple more to-do items
Previous Page 1 2 3 4 Next Page