The best iOS services for tackling your taxes
Still need to file your taxes? Let your iPad help. Here's the rundown of TurboTax, H&R Block, and TaxACT's offerings for iOS.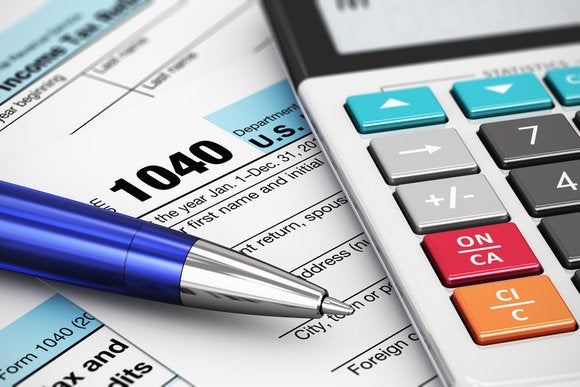 Hooray! It's tax time again: Another year, another opportunity to step into the IRS income confessional and spill the details of your personal financial life. Luckily, if you own an iOS device, it may be all you need to settle up with the taxman. H&R Block, Intuit's TurboTax, and TaxACT all offer apps or mobile web experiences that, depending on your needs, will do the job and do it well. Although the ability to file taxes on a mobile device is not a new concept, the programs are better than ever this year.
Getting started
While most of these tax prep programs offer standalone desktop apps for your Mac (TaxACT has no Mac app but offers a PC-only download) that store data locally on your computer (until you manually upload it directly to the IRS when you're ready to file), the push from all three companies is to either use browser-based apps or, in the case of TurboTax, an iOS app that links directly to your data stored online.
This is both good news and bad. The good news: If you're using any of the Web-linked apps, it doesn't matter what device you're using--your data is ever present. You can start your tax return in a browser on your Mac, update information on your iPhone, and finish and file your return on your iPad. The bad news: None of your data is stored locally, so no Web connection, no way to work on your tax return.
(It's important to note that all of these apps have been updated to provide support for provisions in the Affordable Care Act. If you're subject to any ACA penalties these apps will let you know and help you navigate the ACA waters.)
At the end of the day, there's only one thing that really matters when it comes to selecting tax software: It needs to minimize your tax liabilities while making it easy to enter your personal information in an understandable way. All of these applications do a good job of that, although Intuit's TurboTax still takes the cake on being the easiest to use. Here's how these three tax programs stack up.
TurboTax
TurboTax is the 800-pound gorilla of tax filing apps. It has long been the standard by which other tax apps are measured--not necessarily because it gets you more money, but because it's well designed and makes tax filing easy. Nothing has changed in that regard. TurboTax remains the prettiest app of the bunch and with the new option to start your return on one device and finish on another, TurboTax is now a paragon of ease.