The Asus ET2702 is a good all-in-one PC (if you can't afford a Dell XPS 27 Touch)
The ET2702 has a very high-res 27-inch display, but the absence of one component renders it an also-ran in our benchmark competition.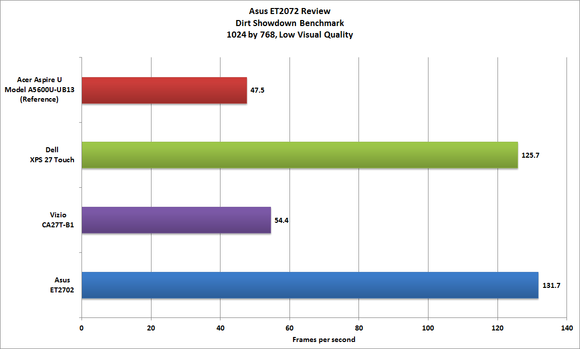 Gaming performance is a bright spot for the Asus ET2702, thanks to its Asus Radeon HD 8890A discrete video card.
The ET2702 is also one of the few desktop systems we've seen to provide an on-board 802.11ac Wi-Fi adapter. If you're running a superfast 802.11ac router, this computer will take full advantage of it.
The Achilles' heel of the ET2702 is its storage subsystem: Dell and Vizio both include a 32GB solid-state drive as a cache for their machines' hard drives, whereas Asus does not. That cache makes a tremendous difference in many applications that involve frequent data fetches from storage. As a result, it affects many of the benchmarks that comprise our WorldBench 8.1 suite. Asus does provide up to a 128GB SSD on some other versions of the ET2702, but not on the model the company sent us (specifically, its model ET2702IGTH-B023K).
Even though the ET2702 doesn't have the best touchscreen display I've seen (that honor belongs to Dell's XPS 27 Touch), it does deliver crisp, clear text and images, as well as bright and accurate colors. Touch is especially nice on the ET2702: Multitouch gestures are smooth and accurate, not at all choppy as I've seen on some touchscreens. I also appreciate the bezel-free, edge-to-edge glass design, which makes it much easier to perform Windows 8 gestures such as swiping from the side or the top of the screen to access menus. I also enjoyed watching HD streaming video on the ET2702's screen, although I did notice visual artifacts and and blurred details.
The rest of the ET2702 needs some work. This AIO looks appealing from far away, thanks to its sleek profile and brushed-metal accents, but Asus needs to make several tweaks for better usability. Four labels in the lower-right corner of the screen, for instance, identify touch-sensitive nubs below the screen for mode, volume up/down, menu, and brightness up/down. The nubs are confusing to use--I wasn't sure whether I was supposed to swipe, tap, or press them. They're also inconsistently sensitive, and generally they never did what I expected them to do. Tapping the volume nub, for example, changed the brightness.
The wireless peripherals, while attractive, are uncomfortable to use: The mouse is too small and square, and the keyboard sports superslick, soft keys. The adjustable stand barely tilts the screen 15 degrees, and the plastic door covering the side ports feels as if it will break within the first five uses.
The Asus ET2702 isn't a bad all-in-one PC, especially if you're a sucker for pretty screens, but it's not the best. The Dell XPS 27 Touch is faster and more attractive, and it suffers from fewer usability issues. And Dell's machine costs only $200 more.