The Asus ET2702 is a good all-in-one PC (if you can't afford a Dell XPS 27 Touch)
The ET2702 has a very high-res 27-inch display, but the absence of one component renders it an also-ran in our benchmark competition.

We would have liked the ET2702 a lot more if we hadn't seen the Dell XPS 27 first.
Full HD displays are so last season. Asus's new ET2702 is the company's first 27-inch all-in-one to sport a quad HD display--that is, a display with a resolution of 2560 by 1440 pixels, instead of the usual 1920 by 1080 pixels. That higher pixel density makes a big difference when you're sitting merely 20 to 40 inches away from a 27-inch screen.
But there's more to the Asus ET2702 than just its screen. Our review model, which costs around $1899 as configured (as of August 14, 2013), sports a quad-core Intel Core i7-4770 processor (a member of the new Haswell family), 8GB of DDR3/1600 memory, a discrete graphics card (AMD's Radeon HD 8890A), a Blu-ray player, and a 2TB, 7200-rpm hard drive. In pricing, the ET2702 is on a par with comparable systems: It's more expensive than the $1440 Vizio CA27T-B1, which has a slower processor and a lower-resolution display, but it's about $200 cheaper than the Dell XPS 27 Touch, which has a lower-voltage version of the Core i7 processor (the Core i7-4770S).
Although the ET2702 boasts some impressive specs, it disappointed somewhat in benchmark performance. For instance, it earned a score of 174 in our Desktop WorldBench 8.1 benchmark tests. That's good--it means the ET2702 is 75 percent faster than our baseline model, the Acer Aspire U--but it's not fantastic, especially compared with the scores of other 27-inch all-in-ones we've reviewed recently. The Vizio CA27T-B1, which has an older third-generation Intel Core i7 processor, scored 179 on WorldBench 8.1. The Dell XPS 27 Touch, meanwhile, blew both the ET2702 and the CA27T-B1 out of the water with its mark of 262.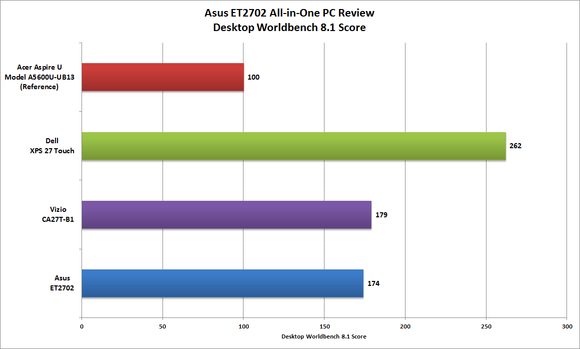 The absence of an SSD cache for the ET2702's mechanical hard drive had a significant negative impact on this all-in-one's Desktop WorldBench 8.1 score.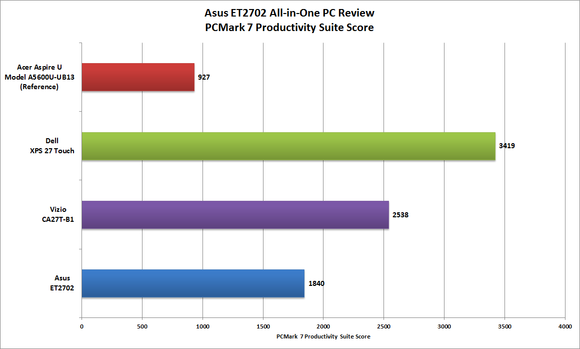 Elements of our WorldBench suite that are based on performance in productivity applications, such as PCMark 7, suffered the most from the absence of an SSD cache.
Those results don't mean that the ET2702 is a lousy computer. It actually delivers superior graphics compared to what Dell and Vizio are providing with their AIOs, and thus it is the best choice of the three if you're looking to play games. Whereas Dell uses Nvidia's GeForce GT 750M card, and Vizio relies on integrated graphics, Asus splurges on an AMD Radeon HD 8890A. In our Dirt Showdown test (resolution of 1024 by 768 pixels, with low visual-quality settings), the ET2702 managed an impressive frame rate of 131.7 frames per second. By comparison, Dell's XPS 27 Touch delivered 125.7 fps and the Vizio CA27T-B1 chugged along at a rate of just 54.4 fps on the same test.