The 6 things you need to know about Apple's best quarter ever
It wasn't just Apple's best quarter ever. It was the best quarter any company has ever had, ever.
Cook declined to break out figures of iPhone 6 versus 6 Plus, but he did say this: "What I can tell you is that iPhone 6 was the most popular iPhone last quarter. But obviously to sell 74.5 million, they were really all popular. And all did well. There is clearly a geographic preference difference, where some geos would skew much higher on their preference to iPhone 6 Plus than other geos. So it's something that's not consistent around the world."
Apple's growth in China also contributed to the iPhone 6's successful launch. Despite not being on sale a full quarter in China (iPhone 6 launched mid-October there, and the quarter ran from October 1 to December 27), Apple saw 100 percent year-over-year growth. Expect China to become a bigger chunk of Apple's revenue over time, as Apple expands its footprint in the country. "We'll hit 20 [Apple Stores] soon and we're doubling that by mid 2016," Cook said. "In fact our online revenues in China last quarter were more than the sum of the previous five years."
Apple Pay is working out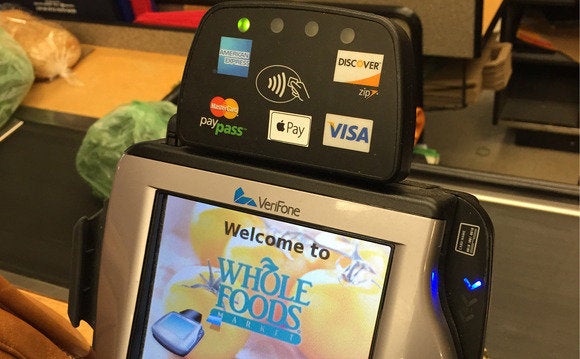 Tim Cook said Apple Pay was "in the first inning" but the company is already pleased with its progress. It's popular with banks--750 banks and credit unions have signed up--and represents $2 of every $3 spent in contactless payments for the big three credit card networks.
Merchants are seeing good numbers too. Said Cook, "In merchants who already accept Apple Pay, the rates are even higher. Panera Bread tells us Apple Pay represents nearly 80 percent of their mobile payment transactions, and since the launch of Apple Pay, Whole Foods Market has seen mobile payments increase by more than 400 percent." You can even use it at vending machines--USA Technologies announced the same day as the earnings call that it was adding Apple Pay support to 200,000 vending machines, coin-op laundry machines, and parking meters across the country.
"With all of this momentum in the early days," Cook crowed, "We are more convinced than ever that 2015 will be the year of Apple Pay."
But of course, this is just a start. Apple still has yet to roll out the service to any other countries. Just as each country has different mobile phone operators, Cook explained, "There's a different set of banks in a lot of the countries, some of the processes with the merchants are different. And so it's an area where there's quite a bit of difference country to country to country and so there's clearly heavy lifting involved to scale. However, it's not something that scares us or that's preventing us from viewing it as a big opportunity." We're keeping a close eye on Apple Pay's expansion too.
Previous Page 1 2 3 4 Next Page