The 4G mobile hotspot you can drive: The 2015 Audi A3 is all about data
We piled into the 2015 Audi A3: four friends and me, along with their devices--two iPads and two MacBooks. While I pulled up a Google Earth map on the car's display, they punched in the network name and password for the car's 4G LTE hotspot. Off we went, and all our online services came with us: music, videos, email, the works.
You can also post to either social network, but not random thoughts; Audi provides some canned responses that get their currency from tacking on location data from the car's GPS.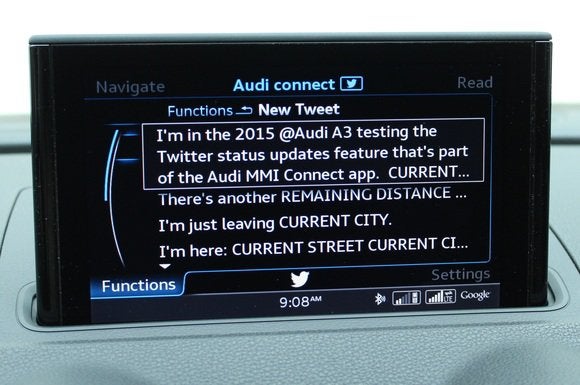 IMAGE: MELISSA RIOFRIO. You can write your own message to post to Twitter or Facebook from the car.
For instance, a response of "I'm stuck in traffic..." is programmed to end with your current street location or geographic coordinates, or your distance from the destination you set in the navigation system. You can also write your own canned response to add to the list of options.
Audi connect app marries your smartphone to the car
Finally, there's an app. The Audi MMI connect smartphone app (iOS-only for now, Android coming) involves a one-time hassle of setting up an Audi connect account on Audi's website and associating it with the app that you download to your phone. It's not a remote-control app with features like lock/unlock, turning on the heat or air-conditioning, or checking other aspects of vehicle status (although you can locate your car using the phone—great in huge parking lots). Instead, it's meant to funnel data from your smartphone to the car.
For instance, if your phone has geotagging enabled, you can take a photo of a location and set it as a destination in the car's MMI system.
You can also search for a location, and it will show up on a map on your phone, for you to set as a destination. The search seems a bit too broad: When I tried it, a lot of other nearby or similarly named locations popped up on the map as well, and I had to sift for the one I wanted.
The MMI connect app could also (with my permission) check my address book for locations and send them to the car as destinations. When I'm up in Sonoma County, for instance, I'm always looking for an excuse to stop by Rosso Pizzeria. This app could get me there from wherever I happened to be in that area.
You could thank the 4G LTE connectivity in the A3 for this wealth of travel-related data, but it's not providing it out of kindness. In the Audi A3's case, the 4G LTE connectivity will be free for the first six months. Subscriptions will cost $99 for 6 months and 5GB of data, or $499 for a year and 30GB of data. The pricing closely resembles that of General Motors, which is busy lining up 4G LTE for much of its 2015 lineup. Both companies use AT&T as the provider.
Previous Page 1 2 3 4 Next Page