The 4G mobile hotspot you can drive: The 2015 Audi A3 is all about data
We piled into the 2015 Audi A3: four friends and me, along with their devices--two iPads and two MacBooks. While I pulled up a Google Earth map on the car's display, they punched in the network name and password for the car's 4G LTE hotspot. Off we went, and all our online services came with us: music, videos, email, the works.
Four buttons surrounding the dial correspond to the four corners of the display, where choices appear for accessing settings or moving among menus. Of course, you have to be careful about distraction as you do all of this, but the consistent interface cues throughout the MMI system definitely help.
Audi connect services provide rich travel data
The Audi Connect services available for the A3 are better than anything I've experienced up to now. Data commonly available now, like weather and maps, look better on the A3's MMI—especially Google Earth's 3D maps, which make typical onscreen maps seem cartoonish—and the data itself is richer. There's even a roboticky female voice that can read things to you while you drive, the better to keep your eyes on the road.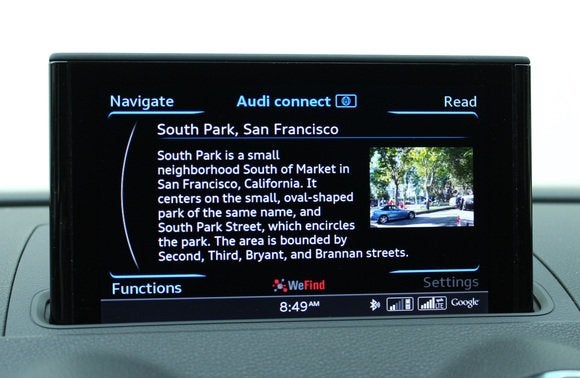 IMAGE: MELISSA RIOFRIO. So where are we going? Audi connect can tell you more about your destination.
The map data, for instance, can provide point-of-interest information about specific locations. Such as South Park, right across from TechHive's offices.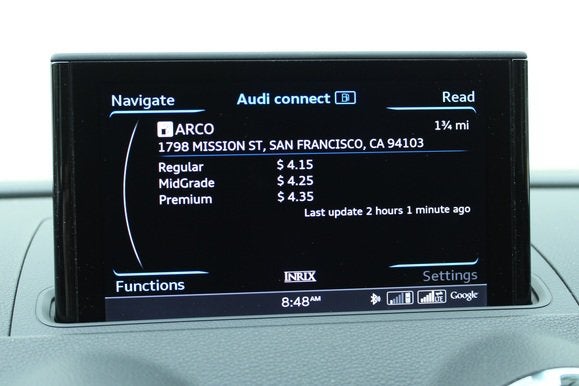 IMAGE: MELISSA RIOFRIO. Knowing the nearest gas staiton is great, but knowing the price of the fuel helps you decide whether to stop there or keep driving.
Many systems can list local gas stations for you, but in the Audi A3, it can list the gas station and the gas prices, as of an hour or two ago.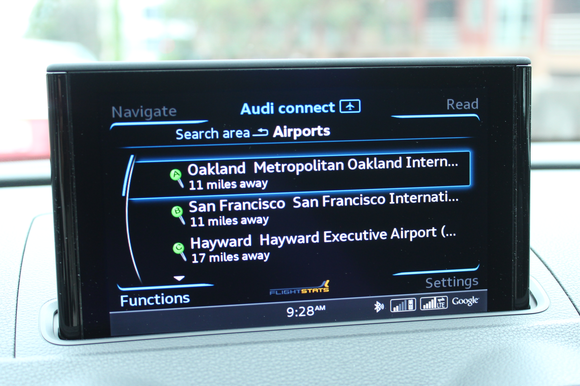 IMAGE: MELISSA RIOFRIO. Leaving on a jet plane? The 2015 Audi A3 can take you there and tell you which flights are leaving next.
Many systems can find local airports, but in the Audi A3, you can find flight information as well.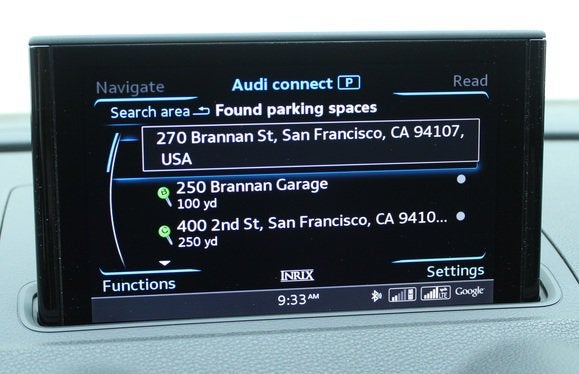 IMAGE: MELISSA RIOFRIO.Everyone needs a place to park. Now you can choose among lots by location or the availability of spaces.
Parking? You can prioritize local lots by number of available spaces.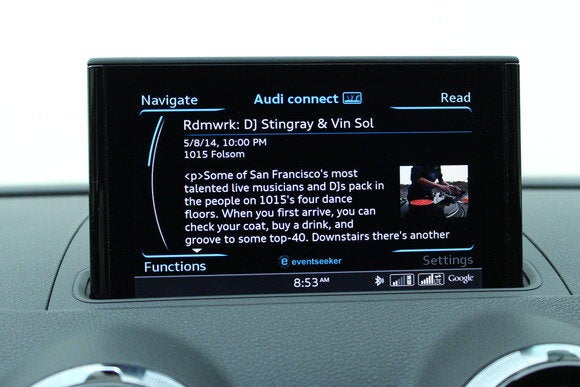 IMAGE: MELISSA RIOFRIO. Let's have some fun! The 2015 Audi A3 can tell you what's hot and happening in your area, too.
You can even look up local events and find stuff to do wherever you're going.
Social networking gets its due, too. The car's voice feature will read your Twitter or Facebook feed aloud.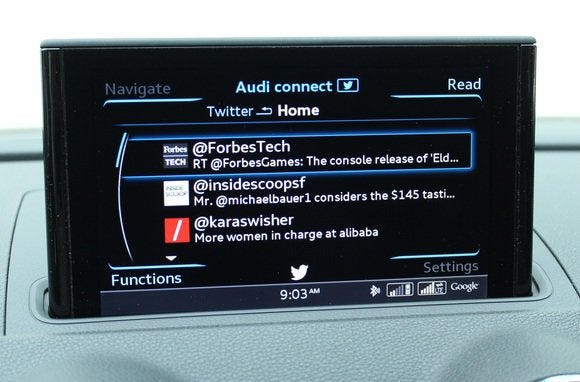 IMAGE: MELISSA RIOFRIO. What's up? You can post preset Twitter or Facebook messages, customized with your current coordinates or other location data.
Previous Page 1 2 3 4 Next Page