Tested: Apple's Magnetic Charging Dock, and 4 other Nightstand-mode-ready Apple Watch stands
These stands turn your Watch into the perfect bedside companion.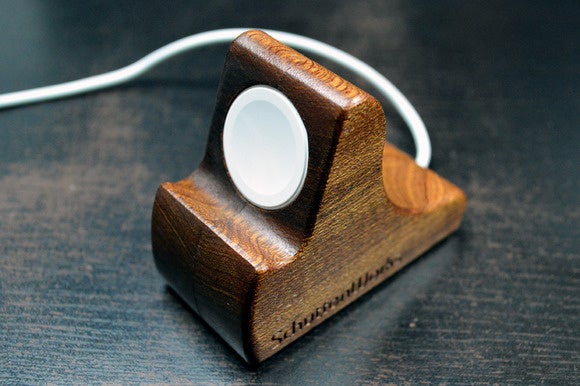 Sarah Jacobsson Purewal
The RIPPLE is simple and very, very well-made. Like the Timber Nightstand, its wooden design might not appeal to everyone, but it's beautifully crafted. The RIPPLE is also the smallest stand in our round-up, with a footprint of just 1.5 inches wide and 3 inches long.
Twelve South Forté for Apple Watch
The $60 Twelve South Forté is a gorgeous metal and leather Apple Watch stand that supports both Nightstand mode and the traditional Apple Watch display mode. The Forté features a black leather base, shiny chrome accents, and a design that cleverly hides the charging cable. Unlike the other stands in our round-up, the Forté holds your Watch at a 45-degree angle, even in Nightstand mode—so this could be a good solution for people with tall mattresses and low tables. The Forté comes in just one color combo, black and silver.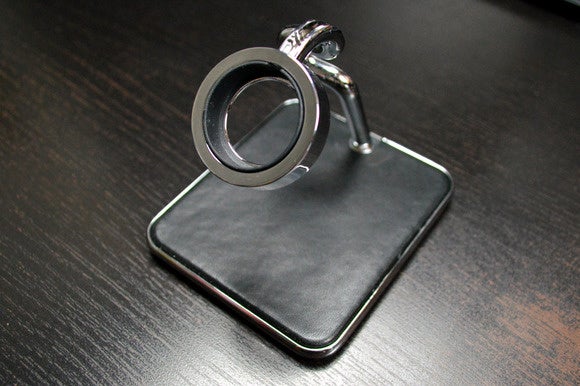 Sarah Jacobsson Purewal
The Forté has a large, flat base that measures approximately 3.25 inches wide by 3.75 inches long. The base has chrome edges and is covered in soft black leather. The base is weighted—this stand won't move too much, despite the fact that its bottom sports black foam instead of a grippier substance. At the back of the base, a single silver tube extends, curving once, and culminating in a circular charging puck holder. The charging puck holder is lined in black rubber and has a removable silver frame that hides the sharp edges and makes the stand look more polished. This frame is made of plastic, though it's painted in chrome.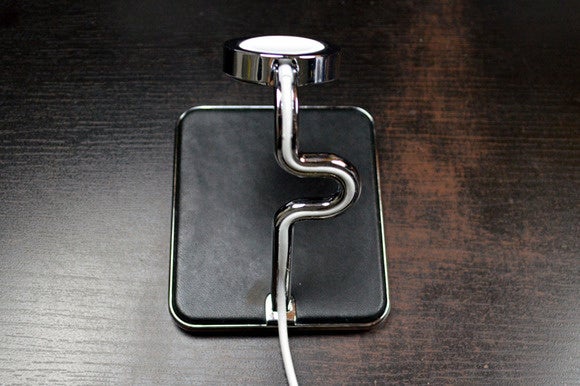 Sarah Jacobsson Purewal
To put the charging puck in the Forté, all you have to do is remove the silver frame and place the puck into the holder. The cord snakes down the silver tube, tucking inside it until it reaches the bottom, where it simply exits the back of the stand. It's one of the easiest charging puck installations of any stand I've used, and it still looks excellent. Place the frame over the puck once you have the cord in place, and you're ready to go.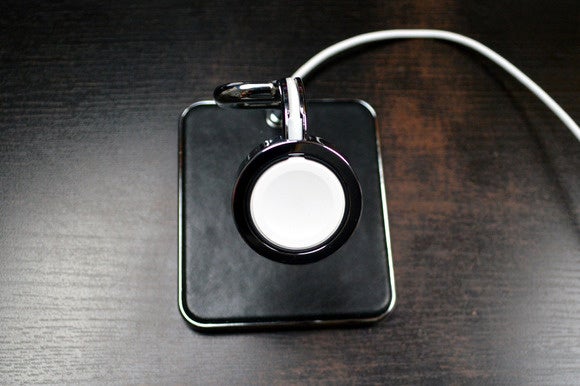 Sarah Jacobsson Purewal
Your Watch can sit on the stand in regular display mode—in which case the band will be able to hang through the curve in the silver tube—or in Nightstand mode. Because my bedside table is at the same height as my mattress, I found this stand to be a bit difficult to use in Nightstand mode—the arm is tall (approximately 3.35 inches tall), and so it was a little difficult to see the Watch at a 45-degree angle.
Previous Page 1 2 3 4 5 6 Next Page