Tested: Apple's Magnetic Charging Dock, and 4 other Nightstand-mode-ready Apple Watch stands
These stands turn your Watch into the perfect bedside companion.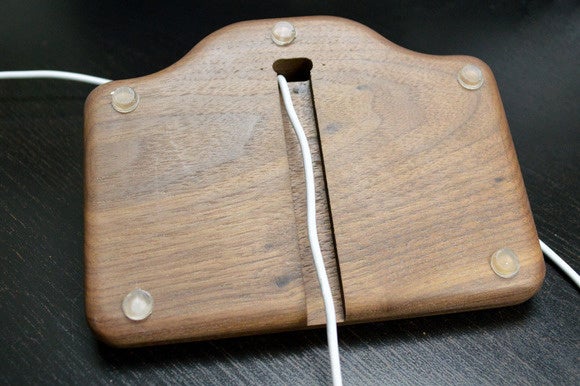 Sarah Jacobsson Purewal
The Timber Nightstand is an attractive wooden stand, but its design won't appeal to everyone. To me, it's reminiscent of wooden catchall dishes my father used to have by his bed—it looks a little too masculine and old-fashioned for my taste. But it's a sturdy stand—it has five small rubber feet on the bottom for extra grippiness—and it does make a lovely display tray for your bands.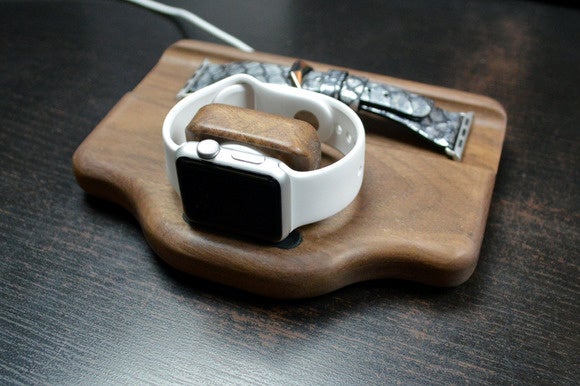 Sarah Jacobsson Purewal
SchuttenWorks RIPPLE for Apple Watch
SchuttenWorks' $54 RIPPLE for Apple Watch is a very simple Nightstand-only Apple Watch dock with a unique magnetic closure that cleverly hides the Watch's charging cable. The wooden RIPPLE comes in multiple finishes, including bamboo, walnut, and mahogany, and fits both the plastic and the metal charging pucks.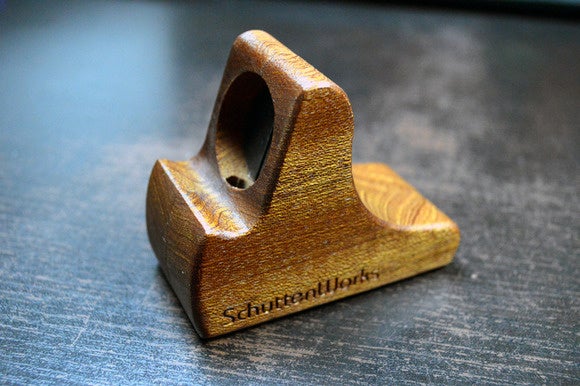 Sarah Jacobsson Purewal
At first glance, the RIPPLE looks like a single, solid piece of carved wood. The front has a precision-cut hole that fits the charging puck (when you order your RIPPLE you can specify if you'd like it cut for the plastic or the metal charging puck), and a small rounded ledge where your Watch's face rests. The back of the RIPPLE has a gently-sloping ledge for your closed strap, as well as a small hole for the charging cable to exit. SchuttenWorks' logo is engraved on the right side of the dock.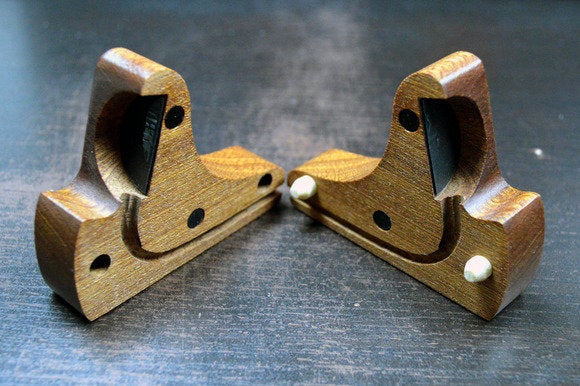 Sarah Jacobsson Purewal
But while the RIPPLE looks like a single, solid piece of carved wood, it's not. It actually comes apart— right down the middle, though the pieces fit together so perfectly that you can barely see the seam. Inside the RIPPLE, there are magnets, dowels (for fitting the pieces perfectly back together), and a groove that hides the charging cable. To install the charging puck, simply separate the two pieces and place the puck and cable in one side, and then snap the two pieces back together. SchuttenWorks isn't lying when they say the cutout for the charging puck is precision-cut—the puck fits perfectly into the hole and lies completely flush with the wood around it.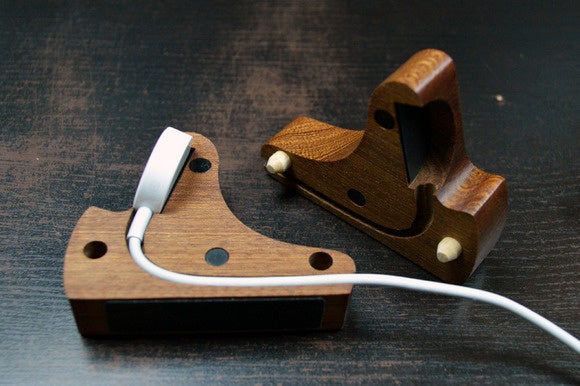 Sarah Jacobsson Purewal
The RIPPLE isn't very heavy—so to keep it from sliding around on your bedside table (or falling off), SchuttenWorks has attached two strips of advanced micro suction tape to its underside. This tape isn't particularly sticky when you touch it, but it creates friction between the stand and any surface, so the stand won't slide or fall off, and you can reposition the stand without worrying about residue. Micro suction tape will not work on a vertical surface. The inside of the charging puck cutout also has micro suction tape to keep everything perfectly in place.
Previous Page 1 2 3 4 5 6 Next Page