Tested: Apple's Magnetic Charging Dock, and 4 other Nightstand-mode-ready Apple Watch stands
These stands turn your Watch into the perfect bedside companion.

Sarah Jacobsson Purewal
Once the puck and cable are in place, you can put the cylinder back in the base. The cord awkwardly sticks out of the cylinder—in order for it to continue to rotate 360 degrees, the cord can't be hidden through the base of the DOCK.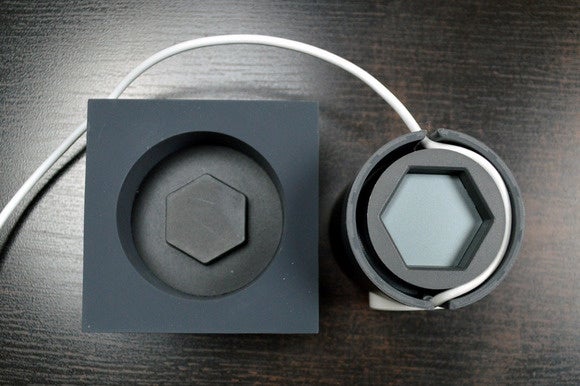 Sarah Jacobsson Purewal
The DOCK is very attractive, but it does have its downsides. Once you place the charging puck and cable in the DOCK, it loses some of its sexiness. Also, the silicone on the base is a dust magnet. But this is still an excellent Nightstand-ready Watch dock—it's prettier (and cheaper) than Apple's version, it supports both Nightstand and regular modes, and it's very versatile.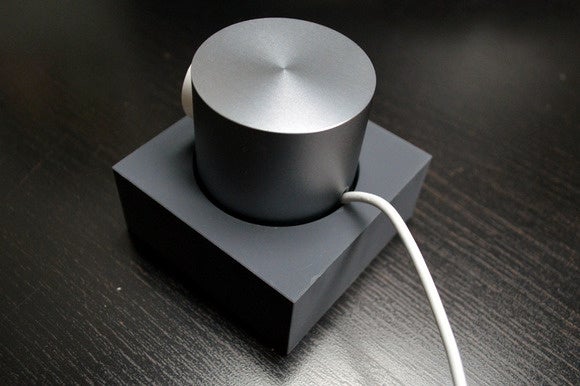 Sarah Jacobsson Purewal
Pad & Quill Timber Nightstand for Apple Watch
Pad & Quill's $90 Timber Nightstand functions as both a dock and a display tray for your bedside table. This hardwood stand has a relatively large footprint (the base measures 4.75 inches long by 6.5 inches wide), because it includes a grooved tray for storing extra Apple Watch bands. The handmade Timber Nightstand comes in three finishes: American Cherry, Exotic Sapele, and Premium American Walnut, which costs an additional $30.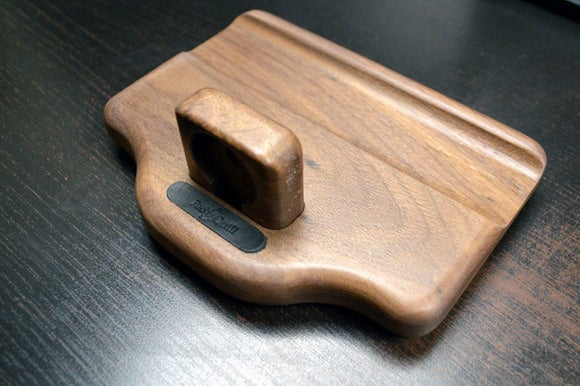 Sarah Jacobsson Purewal
The Timber Nightstand can only display your Watch in Nightstand mode. At the front of the stand, there's a small, square piece of wood where your Watch will sit. This piece of wood has a circular cutout for the charging puck, as well as a hole large enough for a pen to fit through (to make removing the charging puck easier). To put the puck into the Timber, you thread the puck's cable through a USB-plug-sized square hole at the bottom of the cutout. The cable runs through a groove underneath the stand and out the back.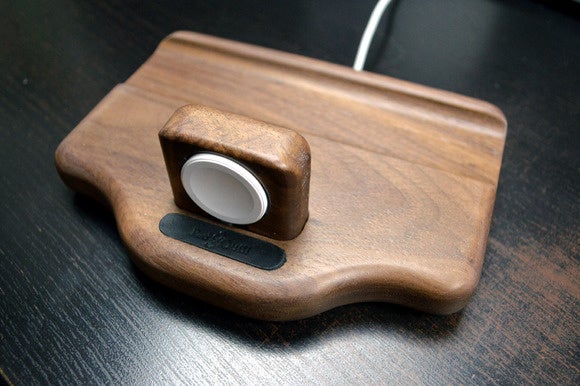 Sarah Jacobsson Purewal
Once it's positioned inside the Timber, the puck does not lie completely flush with the wood. This didn't bother me too much, however, because the edges of the puck only overlap by a millimeter at most. Your Watch rests on a small strip of leather branded with Pad & Quill's logo, and the band circles behind the charging puck.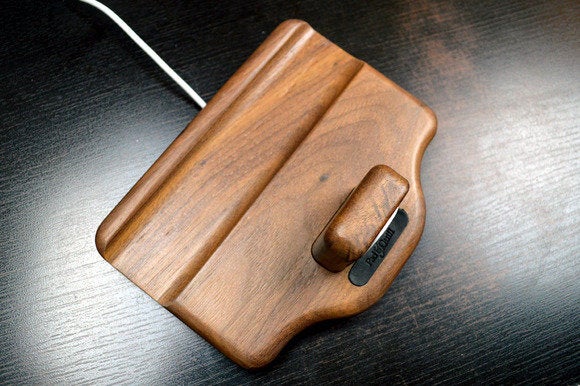 Sarah Jacobsson Purewal
Behind the Watch, there's a groove that's perfectly-sized to fit an extra band. The groove does not have a lip on either side, so it's not ideal for jewelry or change—for a true "catchall" style Watch stand, You can pick up Pad & Quill's $100 Timber Catchall. The Timber Nightstand looks great with an additional band displayed, but if you have more than one extra band it will start to look messy.
Previous Page 1 2 3 4 5 6 Next Page