Tesla's Model 3 now has 325K pre-orders -- and US$14.5 billion in potential sales
Tesla said it will have to rethink its production plans.
Just a week after announcing its Model 3 all-electric vehicle, Tesla has received more than 325,000 pre-orders from potential customers, each of whom handed over $1,000 to reserve a car.
In all, Tesla has now raked in more than $325 million in reservation money for the four-door sedan, which will have a starting price of $35,000 and is expected to begin shipping at the end of 2017.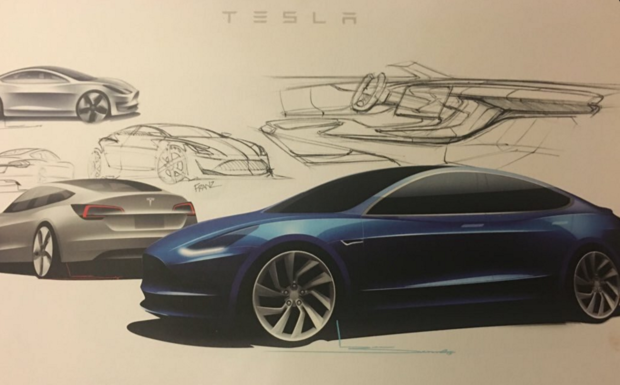 Tesla CEO Elon Musk released this mock up of the Model 3 on Sunday via Twitter. Credit: Tesla
If all 325,000 orders stand (Tesla will refund customers who cancel their reservations), the carmaker would rake in roughly $14.5 billion, it said in a blog post.
The 325,000 orders make the Model 3 "the single biggest one-week launch of any product ever," Tesla boasted.
"This interest has spread completely organically," the company said. "Unlike other major product launches, we haven't advertised or paid for any endorsements. Instead, this has been a true grassroots effort driven by the passion of the Tesla team that's worked so hard to get to this point and our current and future customers who believe so strongly in what we are trying to achieve,."
Just three days after announcing the Model 3 last Thursday, Tesla said it had received 276,000 orders for the vehicle. In a blog post Sunday, Tesla CEO Elon Musk said the car's price will average $42,000 with typical options.
The flood of pre-orders also led Musk to tweet that Tesla would need to "rethink production planning."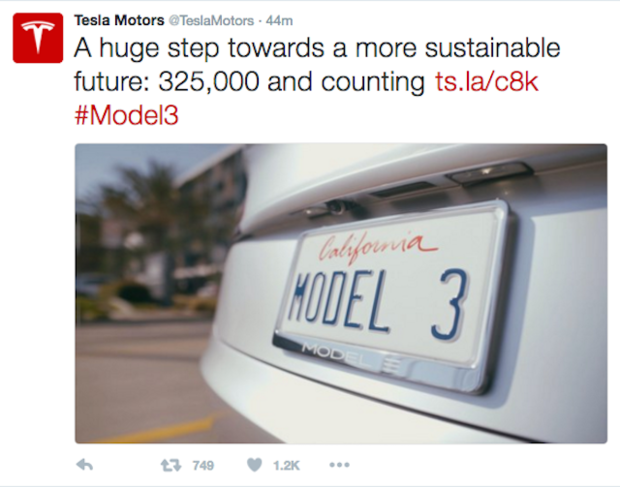 Credit: Tesla Motors
By comparison, there were 25,202 Tesla Model S sedans shipped last year. That car has a starting price of $70,000.
Last year, the Toyota Camry was the best selling car in the U.S., with 429,355 vehicles sold. The Corolla was Toyota's second-best selling vehicle with 363,332 shipped; with 355,557 shipped, the Honda Accord was the next best selling car.
In anticipation of releasing its more affordable Model 3, last month Tesla admitted: "It is not possible to ship to all regions [of the world] simultaneously because regulators in each part of the world have slightly different production requirements."
"In order to be as fair as possible, there will be a different queue for each region," Tesla stated. "Staggering deliveries in this way also allows us to provide the best possible customer experience."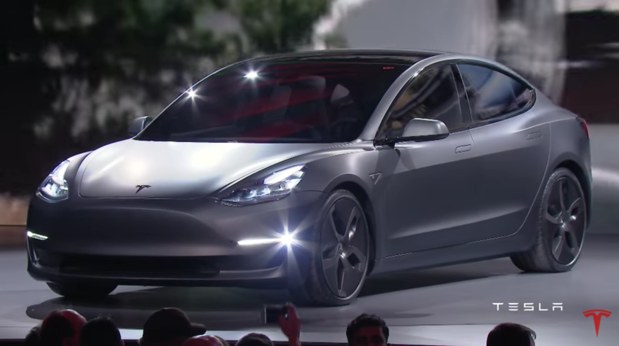 The Tesla Model 3. Credit: Tesla
Meanwhile, the French Energy and Environment Ministry is hoping Tesla will take over a defunct nuclear power plant in its northeast region and transform it into a car plant. Musk did visit France earlier this year and quipped about possibly setting up a facility in Alsace, which is in the northeast of France on the German border.