Tesla wants to end fossil fuel use, make self-driving cars 10X safer
And the company is planning to make a pickup truck
Tesla CEO Elon Musk today posted the second phase of his company's master plan for the future, which includes integrating rooftop solar power with battery storage, expanding auto sales to all markets and making self-driving cars 10 time safer than those driven by humans.
The new phase of the company's vision comes a decade after his first, which outlined creation of a low-volume vehicle that would "necessarily" be expensive in order to fund future "affordable" vehicles and to provide solar power.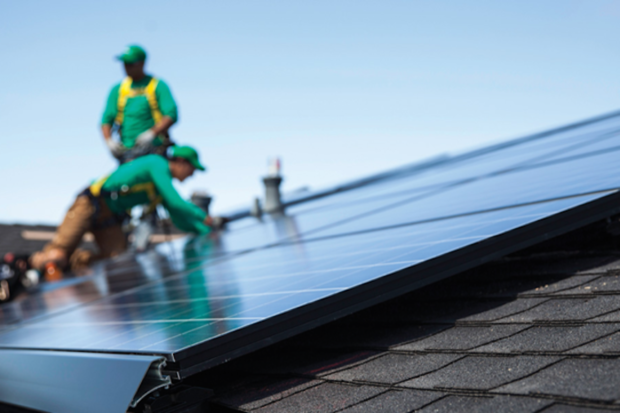 SolarCity
Workers for SolarCity install rooftop solar on a house.
"Part of the reason I wrote the first master plan was to defend against the inevitable attacks Tesla would face accusing us of just caring about making cars for rich people," Musk said in his blog. "The point of all this was, and remains, accelerating the advent of sustainable energy, so that we can imagine far into the future and life is still good.
"By definition, we must at some point achieve a sustainable energy economy or we will run out of fossil fuels to burn and civilization will collapse."
Integrating rooftop solar power with battery storage
Last month, Tesla announced its plan to buy the leading U.S. consumer rooftop solar installer, SolarCity.
Musk is also the co-founder and chairman of SolarCity, which is run by fellow co-founder and CEO Lyndon Rive and his brother, CTO Peter Rive. The Rives are Musk's cousins.
Tesla has been producing residential and commercial batteries to store power generated by the rooftop solar panels. SolarCity, in turn, has been selling those batteries as part of a solar power system.
Tesla
A Powerwall lithium-ion battery mounted on a garage wall with a Tesla Model S.
Tesla's partially operational $5 billion Gigafactory outside Reno, Nevada will by 2020 produce 35 gigawatts (a gigawatt is one billion watts) of battery capacity, with the objective of driving down the per kilowatt hour (kWh) cost of battery packs by more than 30% through economies of scale.
An artist's rendition of the Tesla Gigafactory, which is nearing completion outside of Reno, NV.
Today, a lithium-ion battery pack is one of the most expensive components of a Tesla vehicle.
Tesla trucks
In addition to consumer cars, Tesla is planning to produce three other types of electric vehicles: a consumer pickup truck, a heavy-duty semi-tractor trailer and an urban transport bus.
The semi-truck and bus are in early stages of development, Musk said, but both should be ready for unveiling next year.