Ten apps every iPhone 5s and 5c user should own
Whether you've just picked up a new iPhone or you're eagerly awaiting its delivery, here are the ten apps you should download for your device.
6. Netflix (free, subscription required)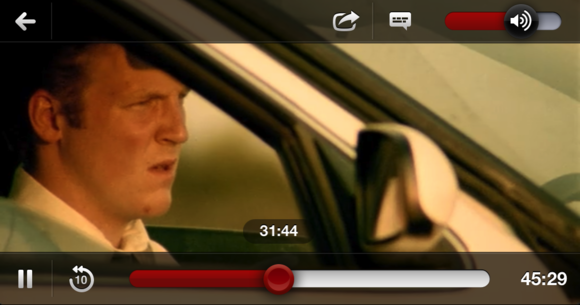 It feels almost like science fiction when you first use the Netflix app to stream movies and television shows to your iPhone.
You can browse your Watch Instantly queue, search for other titles, and begin playing any of them in seconds. Netflix isn't the iPhone's most elegantly implemented app; it feels a bit like a website crammed into an app with minimal spit and polish. But it does what it's supposed to do, which is to let you stream movies--over the Internet! Just remember you'll need a decent Internet connection, too.
7. Dropbox (free)
Because it can invisibly sync your files between all your Macs (and PCs), Dropbox is already magical. Add in the Dropbox iPhone app, and now you can access your Dropbox-synced files wherever you are.
You don't necessarily need to be online, either: The Dropbox app lets you mark individual files as favorites, the latest versions of which the app caches when you open them. Dropbox can play video and audio files, and preview text from Microsoft Office and iWork documents. Sharing files from within Dropbox is snappy: The app emails the recipient a link to a Dropbox-hosted copy of the file you're sending, instead of forcing you to wait for an attachment to upload.
8. Google Search (free)
Siri is great for a lot of queries, but sometimes you need a search engine with a few more options.
Google's app offers live vocal transcription and photo search for your queries as well as traditional text search; in addition, you can view your Google Now information (similar to Notification Center's Today view) if you sync the app with your Google account.
9. Perfect Weather ($3)
If you need a bit more information about your local weather, turn to Perfect Weather as a Weather app replacement. The app is gorgeously designed and offers multiple locations, multiday forecasts and radar maps, rain predictions, and alerts. It's a perfect companion for anyone who needs better weather information without too much data clutter.
10. Moves (free)
Your iPhone is not only an excellent communicator—it can be a very effective fitness tracker, too. The Moves app is an innovative way to combine traditional fitness tracking with a visual journal of your day: It uses your iPhone's location and directional sensors not only to tell whether you've been sitting, walking, running, biking, or taking transportation, but also to chart your journey along the way.
At the end of the day, you get a timeline of your day with a full map of where you've been, how long you were there, and what you did during that time. It's a nifty way to keep tabs on your fitness--and to keep an automated diary of your movements while you're at it.