Taxi! Five free apps for hailing a legit cab
Stop waving your hand at every passing cab. Hail them with your phone instead.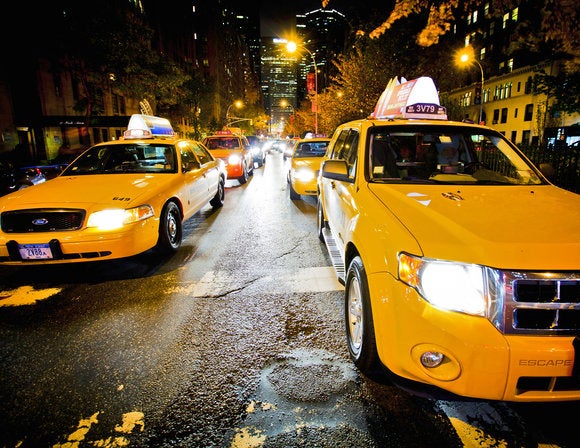 The ride-sharing movement is bustling in some cities, yet still emerging in others, which is why good old yellow cabs are still the most trusted way to find a ride home at the end of a night out. Sure, Lyft's pink mustaches are a welcome sight, and taking a fancy Uber black car has its perks, but having a regular taxi app on hand is a smart move—especially since hailing a cab on New Year's Eve can be nearly impossible without planning ahead. Here are five reputable taxi apps for worry-free transportation.
Taxi Magic
Although you can find tons of apps specific to different cities, Taxi Magic (free for iOS and Android) is the most widespread—it's compatible with more than 60 major U.S. cities and their surrounding areas. Taxi Magic maintains partnerships with several major taxi fleets, and the app will locate available taxis nearby via your phone's location services.
Tab on a cab in the app's map to see which fleet it belongs to and what the driver's name is, and tap "Come get me!" to order cab service. From there, the taxi-dispatch center is notified, and a driver is sent to pick you up. You can track the arrival of your taxi, send a message to your driver with further instructions, and even save a credit card to your account to pay for your ride all through Taxi Magic. Taxi Magic charges standard cab rates, plus a convenience fee of between $1.50 and $2.
NexTaxi
NexTaxi (free for iOS and Android) serves almost as many markets as Taxi Magic: 50 cities and surrounding areas across the U.S. and Canada. And like Taxi Magic, you can order a cab through the app via a local taxi dispatch, watch the cab's route as it makes its way to your location, and then pay with a credit card through the app itself.
But what makes NexTaxi stand out is its personal profiles. You can mark frequent trips—like from your office to the grocery store, or from your usual watering hole back to your house, for example—as favorites for easy cab ordering. Or, if you don't have the exact destination address, you can search for popular landmarks and your saved contacts straight through NexTaxi. Did you leave your favorite scarf in the back of the cab? Just ping your driver through the Trip tab to recall the cab and reclaim your stuff. NexTaxi has no convenience fee: You'll be charged the cab's standard, metered rate.
Flywheel
Flywheel (free for iOS and Android) is new to the taxi app block, partnered only with cab companies in San Francisco, Los Angeles, and Seattle. But instead of working through cab dispatch centers, Flywheel communicates directly with insured, professional drivers who have signed up to work with Flywheel. They are still part of a larger cab fleet, but drivers use their own Flywheel app to track and accept incoming ride requests.