Targus Universal USB 3.0 DV Docking Station: Turn any laptop or Win 8 tablet into a desktop replacement
Add SIX USB ports, drive two additional displays, gain gigabit ethernet, and more
The dock is equipped with DisplayLink technology, so it can drive two outboard displays (there's one DVI and one HDMI, but Targus provides DVI-to-HDMI and DVI-to-VGA adapters in the box). Resolution tops out at an odd 2049 by 1152 pixels per display, but it's more than adequate to drive two 24-inch displays at 1920 by 1200 (or 1920 by 1080) pixels each. Targus tells me the dock can support even more monitors if you plug additional DisplayLink adapters into its USB 3.0 ports (the dock's software supports a maximum of six external displays when connected to a PC running Windows).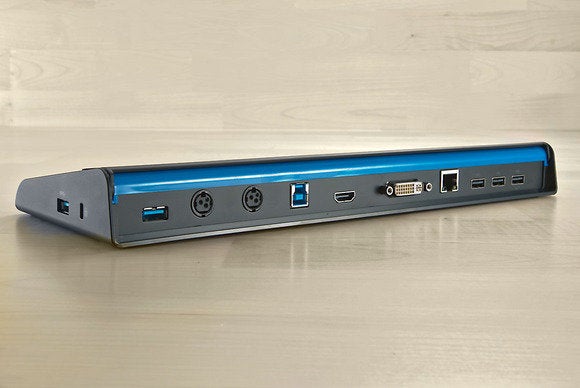 ROBERT CARDIN. Your laptop communicates with the dock via a USB 3.0 B-type cable. The three-pin DIN connectors take power in to the dock and out to your laptop. (Click to zoom.)
Gimme the juice!
The "with power" element of the model name describes the dock's ability to provide electrical power to a 19.5-volt DC laptop or Windows 8 tablet using a proprietary stub cable. Targus provides ten different tips for this cable, conveniently stashed in a cubby inside the dock, to meet the needs of common brands. Although the dock supports Mac OS X, Targus can't provide tips for MacBooks because Apple won't license its MagSafe power connector. Targus doesn't provide tips for the iPad, either.
Finally, the dock's power supply currently doesn't support 12-volt DC devices, such as some slates and tablets. I was surprised to discover that Targus doesn't provide a tip for current-generation Lenovo notebooks, but Targus will provide buyers with whatever tip they need after the sale (the company says it periodically adjusts the collection of tips that it ships with the dock, and that the new Lenovo tips will be included soon).
Having the dock power the notebook means that I can leave the notebook's power supply in my bag, so I don't have to remember to unplug and pack it every time I go on the road. If you can't use or just don't need the power feature, the Targus model ACP70USZ dock includes everything else, and it costs $50 less (based on MSRP).
Two features would make the Targus ACP71USZ an even better universal docking station: a Thunderbolt connector and support for DisplayPort 1.2 with multistream transport. I can live without DisplayPort, since I don't need to drive more than two external displays. but Thunderbolt would be nice to have.