Tablet shipments expected to at least double those of laptops and ultra-slim PCs in 2014
Tablet sales continue to increase as sales of laptops and other PCs decline.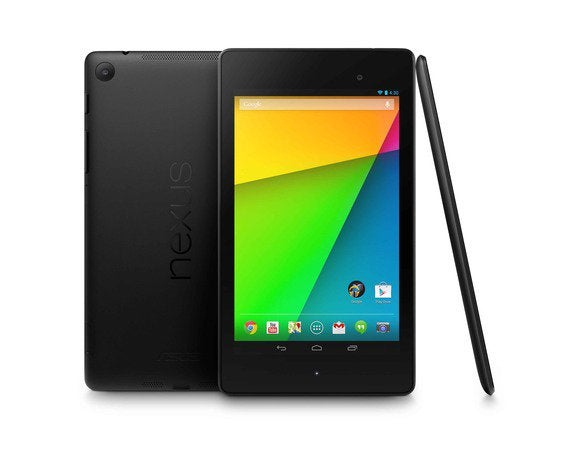 Whether you call it a death, decline, or decimation, the PC and all its variants are quickly succumbing to the rising popularity of tablets.
The latest indication of this ongoing trend is the decline in laptop PCs. Worldwide shipments of touch-based tablets in 2014 are expected to more than double that of laptops at 364 million, as well as ultra-slim PCs at 177 million, according to a new quarterly forecast from NPD DisplaySearch.
The new report follows up on DisplaySearch's January prediction that tablets would overcome laptops for the first time in 2013—a prediction DisplaySearch still stands behind. Part of the reason for the tablet boom is the growing popularity of small-screen devices such as the newly released refresh of the Nexus 7 tablet. DisplaySearch says that tablets with screen sizes of eight inches or less will make up 59 percent of tablet shipments in 2013, rising to 63 percent by 2015, as shown in the chart below.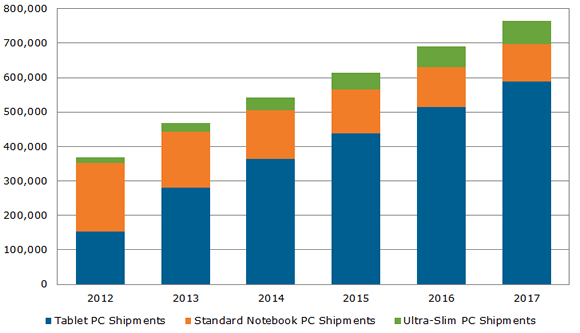 But emerging markets are also playing a big part in the growing tablet adoption. PC purchases were already low in regions such as China and Africa, according to DisplaySearch. When people did buy a PC they were typically opting for laptops. Now, however, that preference for laptops is moving towards tablets, thanks to the lower prices of tablets as well as their better battery life and greater portability.
What about in the U.S. where Microsoft co-founder Bill Gates pretty much realized his vision of a computer on every desk and in every home? In these parts, laptops and other PCs are so common they've become home appliances alongside microwaves, refrigerators, and dishwashers.
"Both [laptops and tablets] are evolving," says Richard Shim, who authored the new DisplaySearch report. "It's certainly possible that tablets could cannibalize notebooks [in the U.S.], but it's too early to tell."
Tablets and laptops are certainly going after the same user base, says Shim, resulting in a sort of convergence where laptops take on tablet-like qualities such as instant-on functionality, more portable form factors, and better battery life. At the same time, tablets are taking on the performance-oriented features of laptops such as higher-powered processors, more input and output ports, and high resolution displays.
So whether U.S. users will gravitate towards tablets or opt for owning both a tablet and a laptop or other higher-powered PC remains to be seen.
Breaking Windows
Another question is what effect the rise of tablets will have on Windows, the grand poobah of the PC operating systems?
"What we're seeing is a dramatic shift in how consumers use mobile computing devices," says Ross Rubin Principal Analyst at Reticle Research. "Consumers are using things in the notebook/tablet form factor more for watching TV and other videos, web surfing, email, and casual games; these are tasks that lend themselves well to a more intimate consumption model."