Swiss luxury watch makers reveal the horological smartwatch, a direct response to gadgety wearable crap
Frederique Constant, Alpina and Mondaine will be the first manufacturers to release watches powered by MotionX step and sleep tracking. And the watches looks fantastic.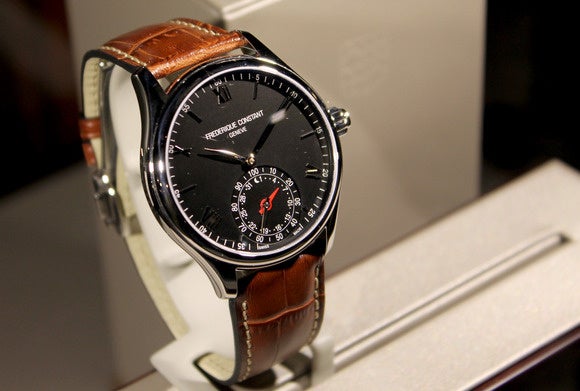 The Apple Watch may emerge in a cloud of narcotic pixie dust on March 9, but the Swiss watch industry has some fancy new tricks of its own. At a chi-chi Thursday launch event, a trio of unbearably urbane manufacturers revealed MMT (Manufacture Modules Technologies), a platform that will power what the Swiss call "horological smartwatches"--beautiful, analog-display timepieces loaded with the same activity-tracking features offered by the Jawbone UP.
The first brands to sign on are Frederique Constant (maker of luxury-oozing "executive" watches), Alpina (think techy-looking sports watches), and Mondaine (best known for its iconic Official Swiss Railway watch). The watches themselves look stunning, at least compared to the gadgety, LCD-display stylings that we've seen so far from Samsung, Pebble, and yes, even Apple.
MMT will manage the PCB design, firmware upgrades, smartphone apps and cloud infrastructure for its oh-so-tony partners, letting the watch manufacturers focus on pure analog design. The first wave of smartwatches promise more than two years of battery life; automatic time adjustments as you bop through time zones; and much of the MotionX activity tracking that will be familiar to Jawbone UP users. This includes sleep tracking, step tracking, and signals to prod you into activity if you remain sedentary for too long.
The story behind the story: With Apple Watch on the horizon and being heralded as the tech industry's best bet to take smartwatches mainstream, the proud Swiss warhorses are finally taking notice. This time last year, a trio of luxury brands told me they had smartwatches in their peripheral vision, but didn't feel the available tech jibed with brand values.
Their main objection: Devoid of hand-crafted analog hands and dials, smartwatches look like crap. They also needed a solution for battery life. Well, the "horological smartwatch" addresses these two problems, and here we are. You can have at least a semblance of smart features without giving up your Grey Poupon.