Surface 3 review: This one is worth recommending, though it's no bargain
Think of the Surface 3 as a smaller, cheaper Surface Pro 3, with slightly disappointing battery life but surprisingly good performance.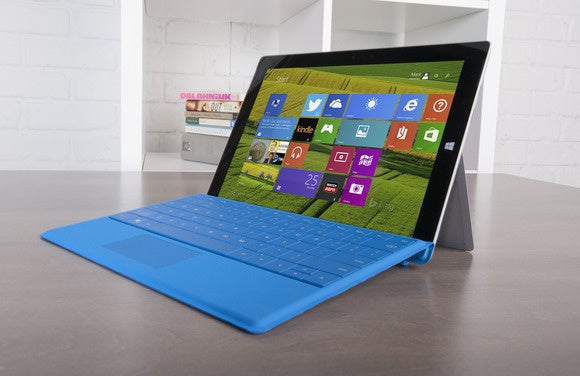 The Surface 3's selling points can be summed up neatly: This is Microsoft's basic Office machine, a cheaper alternative to the Surface Pro 3. Thanks to the new Surface's Intel Atom chip and real Windows 8.1 (with an upgrade path to Windows 10), it offers decent battery life, with a processor sufficient to handle 1080p YouTube videos, Netflix streams, or basic games without batting an eye.
As with any junior member of a product line, there are compromises. The biggest are its price--it not quite as inexpensive as it should be, for what you get; and the ergonomics, which make it less of a laptop replacement than the Surface Pro 3 clearly can be.
The Surface 3 will be available May 5, in two different models: a $499 model with 64GB of storage and 2GB of RAM; and the upgraded version that we tested, a $599 version with 128GB of storage and 4GB of memory. Variants of both models with integrated LTE will also be available, although Microsoft hasn't said how much those will cost.
All of these prices, however, exclude the $130 Type Cover, a necessity that turns the advertised price into a bit of bait-and-switch. Microsoft will also sell a dedicated Surface 3 docking station for $200. Finally there's the Surface Pen, a $50 stylus that ships with the Surface Pro 3, but not the Surface 3. It works essentially the same on both machines.
A tablet upgraded with phone technology
Unbox the Surface 3, and one new feature stands out: the new 13-watt micro USB charger, the same kind of connector used by your cell phone. In part, that's because the 1.6GHz Intel Atom x7-Z8700 used within the Surface 3 sips power, so it doesn't need a hulking wall wart. The extra-efficient chip also means the Surface 3 can have rather small 27Wh battery and yet still last 8.2 hours in our MobileMark 2014 battery rundown test--shorter than the Surface Pro 3's time, but still enough to get through a fair amount of the day. Your mileage may vary, of course.
Because the processor consumes so little power, Microsoft eliminated fans entirely, passively dissipating heat through the tablet chassis. The absence of fan noise is nice, although the Surface Pro 3's fans are so well designed that the tablet fan noise never climbs louder than a hiss.
The new charger design also means your phone's charger could substitute in a pinch, or if you wanted to cut down on the number of cords you carry. You can even use an external battery charger. Unfortunately, like some modern phones, if you drain your Surface 3 completely you'll be forced to charge it for a minute or two before it boots--an annoyance when you need to use the tablet right now.