Surface 2 review: Cautious upgrades don't help a tablet in desperate need of relevance
Microsoft needed to bring the razzle-dazzle. Instead we got a 40-degree angle and higher resolution screen.
Microsoft could have impressed the world with the update to its entry-level Surface tablet, but instead it released the Surface 2. The new tablet's price tag might be $50 less than the original, introductory cost of the Surface RT, but no price reduction can mitigate the Surface 2's fundamental problems—most of which stem from Microsoft's operating system and apps ecosystem.
Indeed, what we have in the Surface 2 is a classy-looking, VaporMg-clad container of missed opportunity. The new tablet benefits from some spec bumps, but it simply doesn't do enough to breathe relevance into Microsoft's unpopular ARM-based tablet platform.
Precisely when Microsoft needed to make a bold move—like removing the desktop from its Windows RT 8.1 tablet once and for all—it released a cautious, tepid, half-step advancement. It's almost as if Microsoft is telling the world that its RT effort is a hobby. Or maybe even a distraction. Or maybe just a product line it can't bear to let die.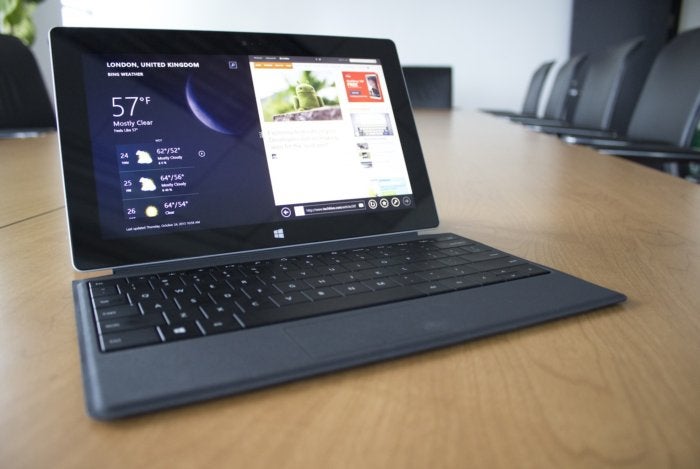 IMAGE: MIKE HOMNICK. In Windows RT 8.1, you can snap only two apps (here we see Weather and Internet Explorer), but the width of each app can be dynamically adjusted to your liking
Let's not quibble over 1/100th of an inch
On its website, Microsoft makes a big deal about how the Surface 2 is "thinner, faster, and lighter than before." Yes, technically the new tablet is thinner and lighter, but let's moderate our Kool-Aid intake before this party gets out of hand. Compared to the model it replaces, the Surface 2 is just two one-hundredths of an inch thinner, and one one-hundredth of a pound lighter. If you can notice the difference, you're a piece of scientific measuring equipment, and not a human being.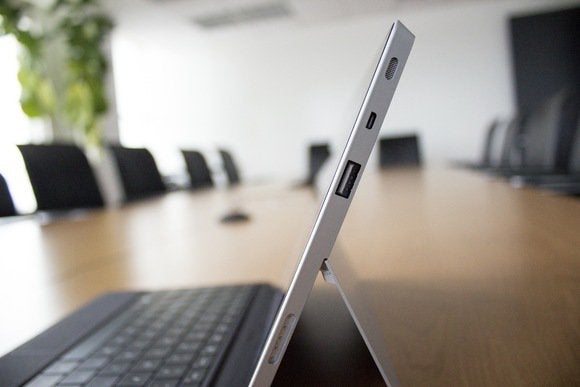 IMAGE: MIKE HOMNICK. Yes, the Surface 2 is technically thinner than the Surface RT, but the difference is indiscernible. Here we see the kickstand at its 24-degree incline.
In terms of raw dimensions, the Surface 2 measures 10.81 by 6.81 by 0.35 inches. This makes it relatively large in an age when tablets are trending smaller, but I'm a fan of screen real estate, so the size doesn't faze me. The Surface 2's weight, on the other hand, is more disappointing. At 1.5 pounds, the slate is a full half-pound heavier than the just-announced iPad Air. Mass reduction is a headline feature in 2013, yet Microsoft did nothing to reduce the weight of its entry-level tablet.
In fact, from an industrial design perspective, the Surface 2 is near identical to the Surface RT save two features. The rear chassis is now dressed in a lighter shade of magnesium (it looks as snazzy as the original color), and the much-celebrated kickstand can now be set at a 40-degree angle in addition to the original 24-degree incline.