Sunbrite SB-4670HD review: In snow, rain, or heat; you can watch the Super Bowl from anywhere on this outdoor TV
This thoroughly weatherized display proved tough enough to survive a rare California hailstorm and tornado warning, too.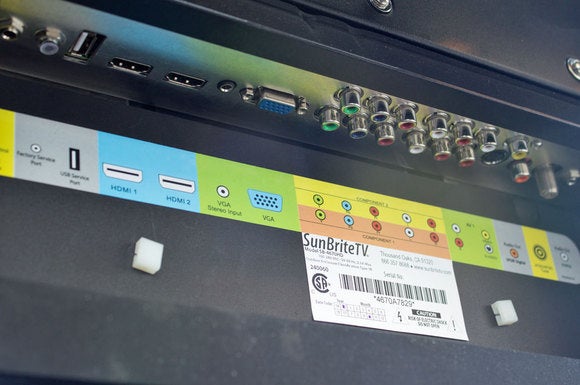 Michael Brown You can see where the foam-rubber gasket at the top of the cable compartment was indented by the cables emerging from the top after I closed the door.
The fact that the TV's inputs face up ameliorates this situation to a degree, because it more or less forces you to bend the cable into a drip loop. If water does travel along the cable into the compartment, gravity will pull it down to the drip loop where it will drop to the bottom of the compartment and drain out through a pair of screened weep holes on either side. The compartment, incidentally, is large enough to also house one of the smaller streaming boxes. I was able to fit a Roku 3 in there, but the Roku 4 was too big.
The SB-4670HD is outfitted with just two HDMI, two sets of component-video, one S-Video, one composite-video, and one VGA inputs. A pair of speakers driven by a 20-watt amplifier are located on the back of the enclosure, but Sunbrite provides RCA stereo audio outputs paired with the component-, composite-, and S-video inputs; and VGA inputs.
Since it would be problematic for me to temporarily hang the TV on an exterior wall for this review, Sunbrite also provided a beefy rolling cart for me to mount the TV to (incidentally, don't forget to take the cost of a mounting bracket or stand into account when budgeting for this purchase, because it stand on its own). But without a surface for the speakers to bounce sound waves off, the TV's audio didn't carry far enough—or at least not far enough in the right direction—to carry dialog when it was outdoors. I don't think that will be a problem in most installations, but if it is—and you're using the HDMI inputs, as most people will—you can connect the TV to a more powerful audio system using the TV's 1/8-inch headphone output or its fixed-level coaxial digital audio output.
You'll also find a USB port in that compartment; but it's marked as a service port and won't power a Chromecast or other video-streaming stick. Two final ports that will be of interest mostly to custom installers: An RS-232 serial port and an infrared window, both of which provide alternative means of remote control. Speaking of remote control, the provided remote is also weatherized.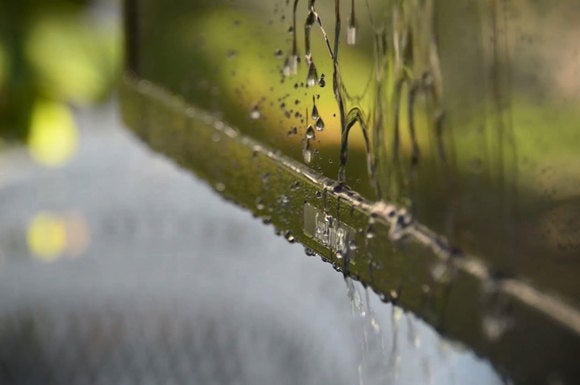 Sunbrite Rain would quickly destroy an ordinary TV, but the Sunbrite can withstand rain, snow, and extreme temperatures, too.
Performance in daylight
I connected the TV to the HDMI output of a Dish Network Joey satellite set-top box. The box, in turn, was connected via a long coax cable to a wall plate inside the house. Sunbrite recommends installing the TV under an eave or a covered patio, so that the screen is not in direct sunlight. Sunbrite's guidance isn't about protecting the TV from the elements, it's so the TV's picture doesn't get completely washed out by ambient light. (The company offers another product line for viewing in direct sunlight, but it's even more expensive, with the 47-inch model selling for $4295. And if your budget can go even further, the company will soon offer a new line 4K UHD outdoor TVs.)
Previous Page 1 2 3 4 Next Page